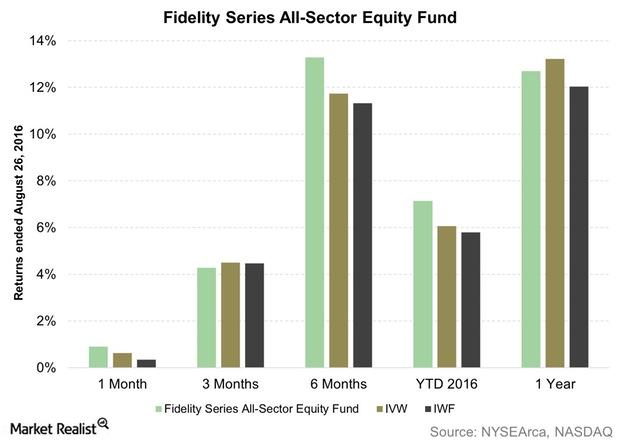 Why Has 2016 Been Good for the Fidelity Series All-Sector Equity Fund?
By David Ashworth

Sep. 1 2016, Updated 10:04 a.m. ET
Performance evaluation of the Fidelity Series All-Sector Equity Fund
The Fidelity Series All-Sector Equity Fund (FSAEX) is having a good year, even amid 2016's challenging conditions. The fund's returns have placed it second among the 12 funds chosen for this review.
In the one-year period, the fund ranks second in terms of point-to-point returns. We have graphed its performance against two ETFs: the iShares S&P 500 Growth ETF (IVW) and the iShares Russell 1000 Growth ETF (IWF). Let's look at what has contributed to the fund's superior year-to-date performance.
Article continues below advertisement
Contribution to returns
Information technology stocks have done the most to help FSAEX post a strong performance in 2016 so far. There is no single stock that has contributed the lion's share to the fund. Instead, there have been small contributions from several stocks such as Facebook (FB), Autodesk (ADSK), and Marvell Technology Group (MRVL), which resulted in a large positive contribution by the sector.
The energy stocks are similar to the fund's tech stocks. Several small positive contributors like Cimarex Energy (XEC), Pioneer Natural Resources (PXD), and Schlumberger (SLB) have combined to make a large contribution to the fund.
Industrials and consumer staples are quite close to each other in terms of the level of positive contribution in 2016 so far. Industrials are led by JB Hunt Transport Services (JBHT) and AO Smith (AOS). Staples were led by Philip Morris International (PM) and Altria Group (MO).
In 2016 year-to-date, no sector has contributed negatively to FSAEX.
Investor takeaways
The Fidelity Series All-Sector Equity Fund (FSAEX) has had a great 2016 so far. However, its total returns are still lower than the passively managed SPDR S&P 500 ETF Trust (SPY). This shows that even the second-best actively managed fund in this review has failed to beat a passive index tracking fund. Given that active funds have done better in the last four to six months, it'll be interesting to see whether they can surpass the passive funds by the next review.
There are restrictions in purchasing FSAEX, which we outlined in the previous article. Also, FSAEX's role is different than the other funds in this review. As its name suggests, the fund is invested across all sectors. This may help or hurt the fund, depending on the market conditions at the time.
For investors who want to remain invested across sectors, this can be a useful offering. However, for those looking only for alpha generation, the fund can serve as one of several choices.
Let's move to the next fund under review: the Janus Fund – Class A (JDGAX).