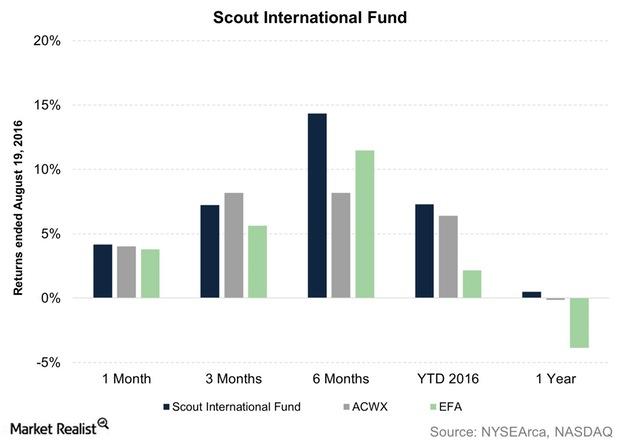 Why 2016 Is Turning Out Well for the Scout International Fund
By David Ashworth

Aug. 29 2016, Updated 10:05 a.m. ET
Performance evaluation of the Scout International Fund
The Scout International Fund (UMBWX) has been an above-average performer for all periods shown in the graph below. In the YTD period until August 19, the fund ranks third in the peer group of 12 funds chosen for this review, while in the one-year period, it stands fourth. We have graphed its performance against two ETFs: the iShares MSCI ACWI ex U.S. ETF (ACWX) and the iShares MSCI EAFE ETF (EFA).
Let's look at what has contributed to this good performance by the fund in YTD 2016.
Article continues below advertisement
Contribution to returns
The information technology sector has been the leader among all sectors in terms of positive contributions to the fund's returns in YTD 2016. Largan Precision and AAC Technologies Holdings have helped the tech sector post a strong performance. Energy has been a large positive contributor as well. Canadian Natural Resources Limited (CNQ), Enbridge (ENB), and Royal Dutch Shell (RDS.B) have fueled gains in the sector.
Industrials, which had been contributing negatively, have turned a corner and have become positive contributors to the fund. Komatsu, Siemens Aktiengesellschaft (SIEGY), and ABB (ABB) are among the major gainers, while Ryanair Holdings (RYAAY) has dragged on the sector. Meanwhile, BHP Billiton (BHP) has helped materials contribute positively.
Financials, which have been negative contributors to most other funds in this review, have actually contributed positively to the UMBWX. Credicorp (BAP) is head and shoulders above all other positive contributors from the sector, which include Bancolombia (CIB). However, the sector does have several negative contributors like Barclays (BCS), Standard Life, and Prudential (PUK).
Consumer discretionary is the only negative contributor among the invested sectors. It has been led down by Next, Honda Motor (HMC), and Fuji Heavy Industries (FUJHY), among others.
Investor takeaways
UMBWX has had a decent 2016 so far. Its low portfolio turnover has been an asset given that the stock picks have delivered. It has far outperformed the passively managed EFA. Impressively, though financials have caused trouble for most funds in this review, they have been positive contributors for UMBWX. But the weakening of economic conditions may backfire for the fund.
Let's now move on to the Waddell & Reed Advisors Global Growth Fund – Class A (UNCGX).