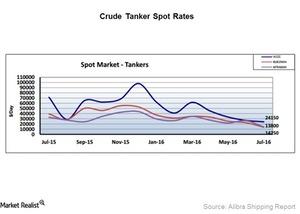 Tanker Rates Go from Highs to Lows in 2016
By Sue Goodridge

Aug. 31 2016, Updated 2:04 p.m. ET
Tanker rates
VLCC (very large crude carrier) rates on the route from the Arabian Gulf to China were proudly sitting high at $107,818 per day at the beginning of the year. However, this couldn't last longer. After a few months, the rates fell by 82% to $19,065 per day on August 19, 2016, according to the Weber Weekly Report. DHT Holdings (DHT) and Euronav (EURN) primarily operate VLCCs.
Other crude tankers don't have a better story. Suezmax rates were hit harder. Suezmax rates are down by 97%. At the beginning of the year, Suezmax rates on the benchmark route were $39,635. The rates fell to $1,064 per day on August 19, according to the Weber Weekly Report. Nordic American Tankers (NAT) only operates Suezmax vessels. Teekay Tankers (TNK) and Tsakos Energy Navigation (TNP) have Suezmax vessels in their fleet. Aframax rates were hit the least. They fell by 56% to $13,533 per day.
Article continues below advertisement
Why tanker rates fell
The crude (DBO) tanker industry experienced a bull ride last year. There was an oil price slump due to the supply glut. When oil producers were in pain in this situation, crude tanker companies were strong. Lower oil prices encouraged countries to import more.
In 2Q16, the tanker market started to experience some headwinds. The global oil supply isn't growing at the same pace as it was in 2000. In 2015, the oil supply grew by 2 million barrels per day. In the last few months, the global oil supply is almost flat and lower than the level last year. Another reason is the slowdown in refinery throughput. Refinery margins have fallen and product inventories are high—this discouraged putting more crude into refineries. The tanker fleet supply rose with newbuilds entering the market.