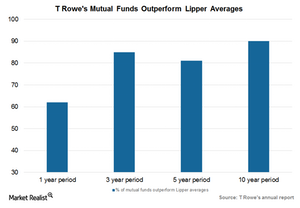 T. Rowe Price's Mutual Fund Performance among the Industry's Best
By Robert Karr

Updated
Retirement funds growth
In 2Q16, T. Rowe Price Group's (TROW) funds performance, led by market appreciation, contributed to its AUM[1. assets under management] growth of $12 billion. For the three-year period ended March 31, 2016, 85% of the company's mutual funds across their share classes outperformed their comparable Lipper averages on a total return basis.
Plus, 81% of the mutual funds outperformed for the five-year period, 90% outperformed for the ten-year period, and 62% outperformed for the one-year period.
On June 30, 2016, Morningstar rated 91% of T. Rowe Price Group's stock, bond, and blended asset funds with four or five stars. T. Rowe Price's target-date retirement funds continue to deliver attractive long-term performance.
Plus, 100% of these funds outperformed their comparable Lipper averages on a total return basis for the three-year, five-year, and ten-year periods ended June 30, 2016.
Article continues below advertisement
Research capabilities
T. Rowe Price Group (TROW) employs research staff in the United States, the United Kingdom, Australia, Hong Kong, Japan, and Singapore. The research teams perform fundamental and quantitative security analysis to support the firm's investment decisions.
The team also conducts industry and company research using sources such as management discussion and interviews, corporate activities, financial data published by the company and other sources, corporate rating services, and field checks with suppliers and competitors in the same industry.
T. Rowe Price Group's research team has played a pivotal role in shaping its mutual fund and advisory businesses. The company also uses research from brokerage houses and analysis from private economists, political observers, and market analysts. Some of its investment portfolios' security selections are based on quantitative analysis derived from computerized data modeling.
TROW posted operating income of $694 million in the first half of 2016. Let's compare this to its peers' operating income:
BlackRock (BLK): $2.1 billion
Bank of New York Mellon (BK): $2.2 billion
State Street (STT): $1.3 billion
Together, these companies form 1.7% of the SPDR S&P 500 ETF (SPY).