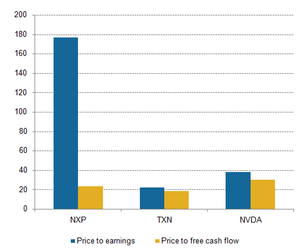 Is NXP Stock Fundamentally Stronger than Peers?
By Puja Tayal

Aug. 29 2016, Published 9:42 a.m. ET
Share price
In the previous part of the series, we saw that NXP Semiconductors (NXPI) stock has underperformed its peers since the start of 2016. This shows that the NXP-Freescale merger and the uncertainty in the macroeconomic environment failed to win investors' confidence. However, things are now improving for the stock as it has jumped on the growth trajectory. In this article, we'll look at the fundamentals of the combined entity's stock.
Article continues below advertisement
In a mature semiconductor market, revenue, earnings, and cash flows are key metrics that determine a company's growth potential. Most mergers in the industry were undertaken with the aim of boosting these three metrics. NXP acquired Freescale to increase its revenue in the fast-growing automotive space. It's difficult to compare NXP with its peers, as TXN or NVDA (NVDA) didn't make any major acquisitions in 2015 or 2016.
Price to earnings
NXP has the highest PE (price-to-earnings) ratio of 176.5 compared to TXN's 22.3 and NVDA's 38.3. A higher PE indicates that NXP investors are paying 176.5 times more to earn an annual EPS (earnings per share) of $1. The company has a lower EPS due to the high interest expense it's incurring on the debt it took to fund the acquisition.
Despite the high PE ratio, analysts have given a "buy" rating to the stock, as they expect the stock to have growth potential.
Price to free cash flow
FCF (free cash flow) is the amount available for shareholders, and a company uses this money to give returns to shareholders either by investing in the business or through buybacks or dividend payments. NXP has a price to FCF of 23.2 as against TXN's 18.4 and NVDA's 30.1. NXP has a higher FCF than TXN but lower than NVDA.
Both ratios indicate that high leverage has made NXP an expensive stock. As the company reduces its debt and improves margins, the company's ratio will improve.