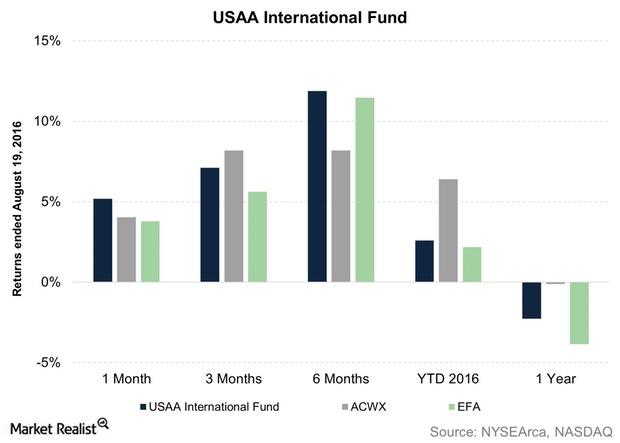 How Has the USAA International Fund Performed in 2016?
By David Ashworth

Aug. 29 2016, Updated 8:05 a.m. ET
Performance evaluation of the USAA International Fund
The USAA International Fund (USIFX) has had a terrific performance in the month ending August 19, 2016. But for the YTD 2016 period, it's right in the middle of the pack as far as its point-to-point returns are concerned. In the one-year period, it's ranked eighth among its peer group of 12 funds. We have graphed its performance against two ETFs: the iShares MSCI ACWI ex U.S. ETF (ACWX) and the iShares MSCI EAFE ETF (EFA).
Let's look at what has contributed to this average performance by the fund in YTD 2016.
Article continues below advertisement
Contribution to returns
Consumer staples have been the biggest positive contributors to the USIFX in YTD 2016. Nestlé (NSRGF) and Danone (DANOY) have been the main gainers from the sector with Ambev (ABEV) earning an honorable mention.
Materials, which have a sizable representation in the portfolio as compared to most other funds in this review, are at the second spot in terms of positive contribution to returns. Linde Aktiengesellschaft, Resolute Mining, and Kinross Gold (KGC) are some of the names that have helped the firm's holdings in this sector.
Among tech stocks, Taiwan Semiconductor Manufacturing (TSM) has towered above all other contributors like SAP SE (SAP). Meanwhile, industrials have been helped by Schneider Electric and Canadian National Railway (CNI) in addition to Rolls-Royce Holdings (RYCEY). However, this is one sector that has seen a sizable drag from a few stocks like Randstad Holding.
Financials have hurt the USIFX the most among all sectors in 2016 YTD. UBS Group (UBS) has led the decliners, which include ING (ING), HSBC Holdings (HSBC), and Barclays (BCS). The absence of any significant positive contributor has weighed on the sector as well.
Sky has led the consumer discretionary sector down with Honda Motor (HMC) and Japan's Denso also playing important roles in the sector's poor showing. Yum! Brands (YUM), Compass Group, and LVMH Moët Hennessy Louis Vuitton S.E. (LVMUY) chipped away at some of the negative contributions, though.
Investor takeaways
The fund is having a decent 2016, but its performance has been a bit patchy and its portfolio turnover is quite high. It's a good option for those investors wishing to have a broad-based exposure to global stocks. The fund invests in over 600 stocks. However, a combination with a fund with a relatively smaller portfolio looks to be a better strategy than going solo with this fund, specifically when global stocks start doing well.
In the last article of the series, let's look at the overall picture that emerges from this analysis.