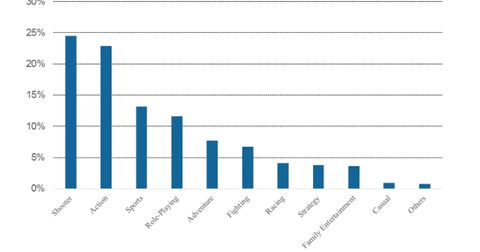 What Helped Microsoft's Xbox One Win Its 'Best-Selling Console' Title?
By Anne Shields

Updated
Xbox One: the top-selling US console
So far in this series, we've discussed Microsoft's (MSFT) recent acquisition of Beam and how it should boost Xbox's capabilities. Although Beam's integration is likely to benefit Xbox One, the offering has already managed to dethrone Japan-based (EWJ) Sony's (SNE) PlayStation 4 in July 2016 in the console space.
According to data-tracking firm NPD group, Microsoft's Xbox One was the top-selling console in the US in July 2016.

In a statement to Gamesbeat, Mike Nichols, Xbox's Corporate Vice President of Marketing, stated: "We're honored that Xbox One was the best-selling console in the US in July and that total gaming hours on Xbox consoles globally were up 18 percent over last year, reaching 1.55 billion hours."
Article continues below advertisement
Lowered prices of Xbox One pushed sales
On August 4, 2016, Microsoft launched the most recent version of Xbox One—Xbox One S. Xbox One now sells for ~$250, whereas Xbox One S starts at $300. In July 2016, Microsoft slashed the price of Xbox One to $250 from the previous $280. This lowered price played a significant hand in Xbox's bagging the title of the top-selling console.
According to the Entertainment Software Association, more than 155 million Americans play video games. Each game-playing household has an average of 1.7 gamers. Approximately 80% of these US households own a device to play video games, while 48% of these households own a dedicated gaming console like Xbox and PlayStation.
Later in this series, we'll discuss the gaming industry's role in Microsoft's revenue growth as well as the competition it faces from Sony's recently launched No Man's Sky. Nintendo (NTDOY) is also a leading player in the gaming space.
Let's move now to Xbox's competition.