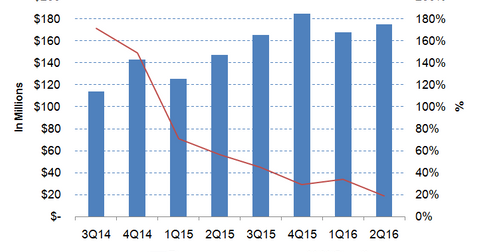 Lower Billings Growth a Worry for FireEye Investors
By Anne Shields

Updated
FireEye's lagging billings growth indicates falling demand
After Symantec (SYMC), FireEye (FEYE) was the latest in the cybersecurity space to announce its quarterly results in this earnings season. Although FireEye's 2Q16 revenue grew ~19% to ~$175.1 million, it failed to meet analysts' expectations by ~$6.6 million.
Billings also failed to meet analysts' expectation of $209 million in 2Q16. In comparison to 19% growth in revenues, FireEye's billings increased only 10% to $196.4 million in 2Q16. When billings grow less than revenues, it's viewed as an indication of slowing demand.
Among FireEye's peers in the cybersecurity space, Fortinet (FTNT) saw its billings increase 26% in fiscal 2Q16. Palo Alto Networks (PANW) reported billings growth of 62% on a year-over-year basis in fiscal 2Q16.
Although FireEye continued to post a loss in 2Q16, its loss per share of $0.30 beat analysts' expectation by $0.09.
Article continues below advertisement
FireEye slashed its 2016 expectations
For 3Q16, FireEye expects revenue and non-GAAP (generally accepted accounting principles) EPS (earnings per share) to come in at $180–$186 million and -$0.49–-$0.53, respectively. For 2016, FireEye now expects 2016 revenue and EPS to come in at $716 million–$728 million and -$1.28–-$1.32, respectively. These figures are lower than the previously provided revenue and EPS guidance of $815 million–$845 million and -$1.25–-$1.32, respectively.
FireEye also slashed its 2016 billings guidance. FireEye's billings are expected to come in at $835 million–$855 million, compared to guidance of $975 million–$1.1 billion provided in 4Q15 earnings.