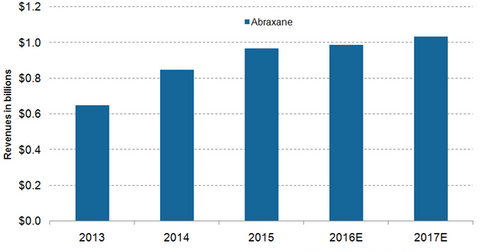 Abraxane Still Leads the US Metastatic Pancreatic Cancer Segment
By Margaret Patrick

Updated
Abraxane demand
Celgene's (CELG) solid tumor drug Abraxane has been one of the leading metastatic pancreatic cancer therapies in the US market. The drug is also strengthening its position in the breast cancer and lung cancer segments in the United States. This has enabled Abraxane to earn revenue of $249 million in 2Q16, a year-over-year (or YoY) rise of about 2.2% and a sequential rise of about 11%.
Abraxane is considered to be the standard of care for pancreatic cancer in US markets. Additionally, the drug's sales are expected to grow in the majority of reimbursed international markets. These trends will enable Abraxane to be tough competition for other pancreatic cancer drugs such as Novartis's (NVS) Afinitor, Roche's (RHHBY) Tarceva (through its subsidiary Genentech), and Pfizer's (PFE) Sutent.
Article continues below advertisement
Sales projections
Wall Street analysts have projected that Abraxane's sales will rise by ~2% YoY, from around $968 million in 2015 to $987 million in 2016. This projection is in line with Celgene's guidance for Abraxane's expected sales in 2016.
The company expects to earn revenue in the range of $950 million–$1.0 billion from Abraxane's sales in 2016. Wall Street analysts also expect the drug's sales to rise by 4.8% YoY and reach $1.0 billion in 2017. To know more about Abraxane's growth prospects, please refer to What Will Drive Future Revenue for Celgene's Abraxane?
If Abraxane's sales for 2016 manage to surpass analysts' expectations, it could boost Celgene's share price as well as the price of the iShares Russell 1000 Growth ETF (IWF). Celgene makes up about 0.82% of IWF's total portfolio holdings.
Growth areas
Celgene is also exploring the use of Abraxane in combination with Tecentriq as a therapy for triple-negative breast cancer patients. Additionally, the drug is being studied as part of a combination therapy for non-small cell lung cancer.
In the next article, we'll explore Celgene's key research programs in the hematologic oncology space.