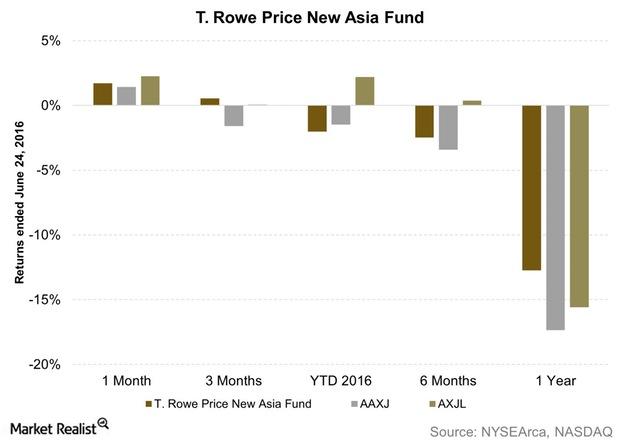 Why Year-to-Date 2016 Hasn't Been Good to PRASX
By David Ashworth

Jul. 1 2016, Published 3:09 p.m. ET
Performance evaluation of the T. Rowe Price New Asia Fund
The T. Rowe Price New Asia Fund (PRASX) has been an above-average performer in the past three months. However, YTD (year-to-date) in 2016, the fund stands eighth among the nine funds chosen for this review.
We've graphed the fund's performance against the iShares MSCI All Country Asia ex Japan ETF (AAXJ) and the WisdomTree Asia Pacific ex-Japan ETF (AXJL). Let's look at what's contributed to its poor performance in 2016.
Article continues below advertisement
Portfolio composition and contribution to returns
The fund's stock picks from the consumer discretionary sector have hurt it the most YTD in 2016. JD.com (JD) has been the biggest negative contributor by far. Weifu High-Technology Group and Vipshop Holdings (VIPS) are among other negative contributors. Though TAL Education Group (XRS) and a few other stocks have made positive contributions, they've been quite small and therefore unable to dent the negative contributions of other stocks.
Financials have tailed discretionary stocks. HSBC Holdings (HSBC) has led the sector's detractors, which include ICICI Bank (IBN) and AIA Group. Though India's Shriram Transport Finance and HDFC Bank (HDB) have contributed positively, their contributions haven't done much to reduce the overall negative performance of the sector.
CK Hutchison Holdings and Cummins India, part of US-based Cummins (CMI), have pulled down the industrials sector. However, a positive contribution from Jardine Matheson Holdings has helped the sector out.
Article continues below advertisement
Information technology stocks have been the biggest positive contributors to the fund in 2016. Tencent Holdings (TCEHY) and Taiwan Semiconductor Manufacturing Company (TSM) have powered the sector ahead. However, some of this forward march has been checked by negative contributions from 58.com (WUBA), Autohome (ATHM), and Baidu (BIDU).
Investor takeaway
PRASX has fared worse than the passively managed AAXJ YTD. Stock picks from the consumer discretionary sector have not worked for it at all, but stock picks from positively contributing sectors have held back any further detractions.
Given that the fund's portfolio turnover is on the higher side, its management may be in the process of readjusting its portfolio. Some time will be required to see if this is the case or if the fund will continue to churn stocks.
Though PRASX may not be the top choice for investing in Asia given its recent performance, it can certainly be considered as one of several funds that could help you invest in the region.
In the last article of the series, let's look at the overall picture that emerges from our analysis.