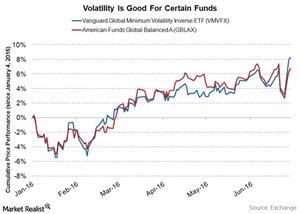 More Volatility Ahead—Can It Help Hedge Funds?
By Surbhi Jain

Nov. 22 2019, Updated 7:12 a.m. ET
More volatility ahead
"More volatility ahead—is that good for hedge funds?" inquired Anthony Scaramucci as he interviewed Marc Lasry, the CEO of Avenue Capital, and Ben Huneke, managing director Morgan Stanley, on the June 24 episode of Wall Street Week on Fox Business Network
Lasry sees a huge amount of volatility ahead. He also thinks it's good for investors, as investors make gains by betting on the probability of what's going to happen. He believes that if they expect higher volatility ahead, they can position themselves accordingly and realize gains from it.
Article continues below advertisement
Good for funds?
In our analysis, How Hedge Funds Translate Market Volatility into Returns, we discussed how hedge funds employ volatility strategies to secure gains in an uncertain market. The volatility strategy usually requires investors to take a long, short, neutral, or variable position, depending on the direction of the implied volatility.
The past 12 months have seen several instances of heightened market volatility. The HFRX RV: Volatility Index has returned 1.6% over the past 12 months, while the Vanguard Total Stock Market ETF (VTI) is up by 0.1%.
The S&P 500 Index (SPY) (VOO) (VFINX) has risen by 1.5% during this period. The HFRX RV: Volatility Index seeks to track the performance of hedge fund strategies that trade volatility as an asset class, employing arbitrage, directional, market neutral, or a mix of strategies. The index's strategy is based on making gains from relative value.
Minimizing volatility
For those who prefer investing in inverse volatility funds as opposed to volatility-trading funds, the Vanguard Global Minimum Volatility Fund (VMVFX)—an actively managed mutual fund—and the American Funds Global Balanced Fund A (GBLAX)—a volatility-minimizing fund—can serve this purpose.
These funds tend to gain when market volatility heightens. VMVFX returned 9.1% over the past two years and 6.7% YTD (year-to-date) on July 1. GBLAX has risen by 5.9% YTD.
Asset managers and hedge funds have made gains from Brexit. Macro strategies and shorting the pound or a rush to safe-haven gold have reaped gains for hedge funds.
The big question remains as to the future of Britain and the European Union, as Britain parts ways from the EU monetary union.