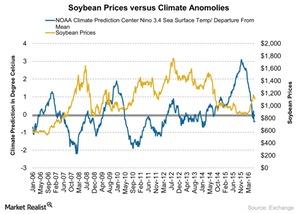 El Niño's Effect on Grains, Soya Crops May Cause Price Cushioning
By Sarah Sands

Updated
Soybeans and El Niño
El Niño brings hot and dry conditions that can increase prices of agricultural commodities (DBA) such as grains and soya crops. The recent surge in soybean prices can coincide with the expectation of a strong El Niño effect, damaging the soya crops. In 1998 and 2010, the El Niño effect led to a surge in soybean (SOYB) prices.
Article continues below advertisement
Performance of soybeans
On a year-to-date basis,[1. on July 20, 2016] soybean active contracts rose by ~20.0%. In the last three months, this commodity has returned ~3.5%. Soybeans have fallen by ~41.0% from its 2012 high of $1,771 from September 2012 to July 20, 2016.
Since 2012, soybean prices have been in a downturn due to a supply glut. This is one of the factors that kept prices subdued, even in the hot and dry conditions. Soybeans comprise one of the major agricultural commodities in Latin American (ILF) economies such as Chile (ECH), Argentina (ARGT), and Mexico (EWW).
Seasonality factor for soybeans
In the last five years, prices average suggest that soybean prices usually rally between January and July, as compared to the remaining part of the year. During March to July, the temperature in different parts of the world remains higher, and it helps to boost prices.
Brazil's exports constitute approximately ~13.0% of its GDP, according to the World Bank report for 2015. The export mostly consists of agri-commodities (DBA), industrial metals, and energy. As one of the major commodities for Brazil (EWZ) (BRZU), soybeans constitute a major part of Brazil's agribusiness. So, a fall in soybean prices will affect the Brazil's agricultural exports.
In the next part of this series, we'll analyze how Brazil's energy sector is supporting its growth.