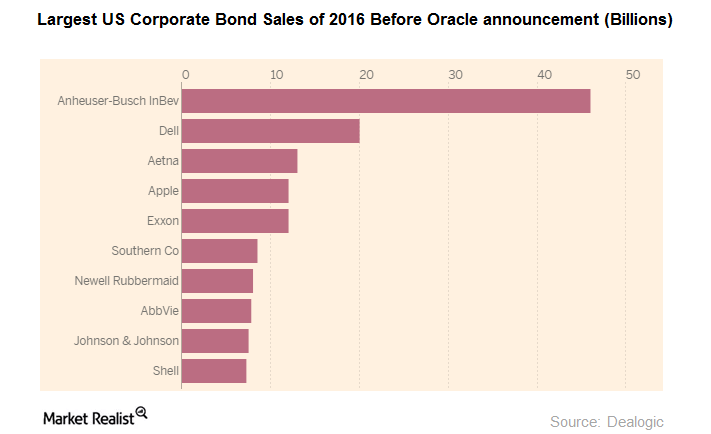 Oracle Makes News with Its Biggest Bond Sale Ever
By Anne Shields

Jul. 1 2016, Published 10:57 p.m. ET
Oracle announced its largest bond offering
On June 29, 2016, Oracle (ORCL) announced a bond sale of $14 billion. The company's largest-ever investment-grade bond sale is split among five tranches
Oracle's bond deal is the third-largest deal in 2016. Anheuser-Busch's $46 billion bond issuance in January 2016 is the largest bond deal in 2016 so far, followed by Dell's $20 billion bond offering in May 2016.
Despite volatile commodity prices and uncertainty in global markets, it appears that corporate bond sales are beginning to gather speed. According to Dealogic, more than $637 billion has been raised by investment-grade groups in 2016. This includes $158 billion to finance acquisitions. Dealogic considers it a record level, which is only expected to increase after the Oracle bond sale.
The SEC filings on the Oracle bond sale stated that the proceeds from the sale would be used for corporate purposes like share buybacks and future acquisitions. In the past, Oracle has issued bonds to fund share buybacks and dividends.
Saw some of the largest bond issuances occurred in 2015, led by Microsoft (MSFT), Qualcomm (QCOM), and Oracle (ORCL). Most of the proceeds from these bond issuances were directed toward share repurchases and dividends.
Article continues below advertisement
Cash parked abroad urges tech players to resort to debt market
As the majority of companies in the tech space get their revenues from abroad, their cash reserves are also held abroad. Due to a majority of their cash parked outside the United States, they have to resort to bond issuance to borrow for acquisitions, dividends, and buybacks. This explains why despite having significant cash, Apple (AAPL) raised $1.0 billion in Australian bonds (EWA) in June 2016.
AppleInsider stated that the company had issued "three sets of bonds" that would mature in June 2020, January 2024, and June 2026. The company is expected to raise between $3 billion–$4 billion from the Asia-Pacific region in the near future.
For the same reason, despite having significant cash reserves, Microsoft resorted to debt to fund its latest and largest-ever acquisition of LinkedIn (LNKD).