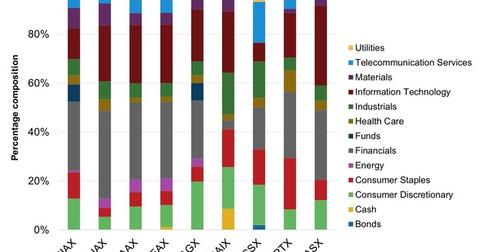 Why You May Want to Look to Asia for Investment
By David Ashworth

Updated
Compelling diversity
In this series, we've looked at nine actively managed mutual funds that invest in Asia, excepting Japan. We've looked in-depth at the performance drivers of each of these nine funds compared to two passively managed ETFs, the iShares MSCI All Country Asia ex Japan ETF (AAXJ) and the WisdomTree Asia Pacific ex-Japan ETF (AXJL).
Many of the countries in which these funds invest have exciting prospects, especially given the present-day gloomy global economy.
Article continues below advertisement
China is worrisome
China's (FXI) economic growth has slowed substantially in the past few years. It's debatable whether a hard landing has already occurred or is expected to occur in the future. Though China's economic prospects have dimmed, international investor interest in China's stock markets remains.
Even though MSCI decided not to include China's A shares in its Emerging Market Index this year, it's highly likely that this will occur within the next year. You should ensure that you have a medium- to long-term horizon before investing in China.
Given the state of Brazil (EWZ), the present state of China is still quite exciting. Investing in Asian funds also provides you with exposure to India (EPI), which, though not worry-free, is probably the most promising emerging market right now. The funds in this review also ensure diversification, not over-exposure to a particular emerging or frontier market.
If you wish to have an exposure to Japan (DXJ) as well, you can always look at Asia-Pacific mutual funds that not only provide exposure to Japan, but also to Australia (EWA) and New Zealand (ENZL).
With Europe in turmoil in the wake of the Brexit vote and Scotland wanting to rejoin the European Union, Asia makes for an attractive investment frontier beyond US equities.
You can find more analysis on funds at Market Realist's Mutual Funds page.