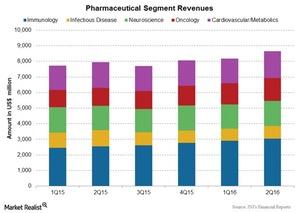 How Did JNJ's Pharmaceutical Segment Fare in 2Q16?
By Mike Benson

Updated
Pharmaceuticals segment
Johnson & Johnson's (JNJ) pharmaceutical segment comprises of the immunology, infectious disease, neuroscience, oncology, and cardiovascular and metabolics franchises.
Article continues below advertisement
Immunology franchise
The major blockbuster drugs under this franchise are Remicade, Stelara, and Simponi/Simponi Aria. The immunology franchise revenues rose by 19.0% to $3,038 million in 2Q16. The segment's revenues included an operational growth of 19.8%, offset by a 0.8% negative impact from foreign exchange. The immunology franchise saw a strong performance in the US markets, including increased penetration for Stelara and Simponi Aria. Also, the international markets have shown positive growth across major regions.
Stelara competes with Amgen's (AMGN) and Pfizer's (PFE) Enbrel and Abbott's (ABT) Humira.
Infectious disease franchise
The infectious disease franchise consists mainly of HIV products and Hepatitis C products. The revenues for infectious diseases fell by 19.7% to $829 million in 2Q16, including an operational decline of 19.1%. The HIV products include Prezista and Prezcobix while the Hepatitis C virus (or HCV) products include Olysio, Sovraid, and Invico.
Article continues below advertisement
Neuroscience franchise
The neuroscience franchise consists of drugs like Concerta, Invega Sustenna, and Xeplion. The neuroscience franchise revenues increased by 2.4% to $1,602 million in 2Q16, including an operational increase of 2.8%, partially offset by a 0.4% negative impact of foreign exchange. Invega Trinza and Xeplion were the growth drivers for long-acting injectable products. However, US sales were affected by lower sales of Invega due to competitive products.
Oncology franchise
The oncology franchise grew 28.8% to $1,474 million during 2Q16, including an operational increase of 29.8%, which was partially offset by a 1% negative impact of foreign exchange. The growth was driven by increased sales of Zytiga and Imbruvica, as well as strong uptake of Darzalex. Zytiga competes with Dendreon's (DNDN) Provenge while Imbruvica competes with Gilead Sciences' (GILD) Zydelig.
Cardiovascular and metabolics franchise
The cardiovascular and metabolics franchise reported an increase in revenues of 3.6% to $1,711 million in 2Q16. This increase was due to strong sales of Xarelto and Invokana. Xarelto, a blood thinner, competes with Boehringer Ingelheim's Pradaxa and Bristol-Myers Squibb's (BMY) and Pfizer's (PFE) Eliquis. Invokana, a diabetes drug, competes with AstraZeneca's Farxiga.
Investors can consider ETFs like the iShares Global Healthcare ETF (IXJ), which holds 8.3% of its portfolio in Johnson & Johnson, in order to divest company-specific risk.