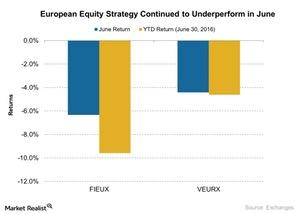 European Equity Index Underperformed in June: Will Trend Reverse?
By Sarah Sands

Updated
European equity index performance
In the previous part, we looked at a major event on June 23, 2016: the United Kingdom's (EWU) referendum vote to leave the European Union (DBEU) (IEV) (EZU). All the major indexes showed a massive sell-off the next day.
Concern is increasing in investors' minds about whether this event may cause other member countries to follow suit. Billionaire investor George Soros warned that Brexit may spark disintegration in the European Union.
All the major European indexes showed poor results in June 2016. The Barclay European Equity Index remained the underperformer among all the hedge fund indexes. It returned -2.7% in June. On a year-to-date (or YTD) basis, the fund returned -6.7% as of June 30, 2016.
The Fidelity Europe Fund (FIEUX) returned -6.3% in June. YTD, it returned -9.6% as of June 30, 2016. The Vanguard European Stock Index Fund Investor Shares (VEURX) returned -4.4% in June. YTD, it returned -4.6% as of June 30, 2016.
Article continues below advertisement
Fund managers' perspectives toward European equities
A major problem with the European Union (VGK) is that member countries have the same monetary policy but different fiscal policies. So it's very difficult to achieve growth in the European Union.
The United Kingdom raised various issues such as the European Union's easy immigration law, which was hampering employment for UK citizens. It also said the migration law was causing economic and political instability in the United Kingdom. These issues helped lead to a "leave" vote for the Brexit referendum.
John Schlifske, CEO (chief executive officer) of Northwestern Mutual, said investors shouldn't panic about Brexit. But Bill Gross thinks a Brexit marks the "end of globalization".
Alexander Dryden, global market strategist at J.P. Morgan Asset Management, believes Europe has more room to run. He said the falling unemployment rate and improving consumer spending would drive growth in the economy. According to Dryden, the domestic economy is improving, and the domestic cycle will pick up in the near future.
In the next part of this series, we'll analyze the performance of the event-driven index in June 2016.