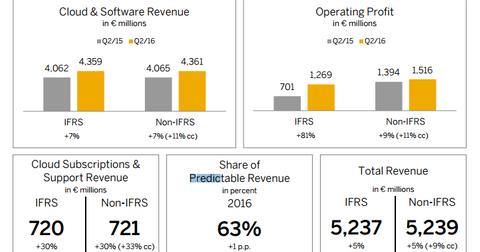 What Enabled SAP to Improve Its Predictable Revenue?
By Anne Shields

Updated
Cloud subscriptions and support revenue
Previously in this series, we discussed SAP's (SAP) growing recognition for its offerings and the improved performance of its operating segments. Like IBM (IBM) and Oracle (ORCL), SAP is also currently undergoing the transition to the web-based subscription model from traditional licensed software, which is expected to lead to more predictable recurring revenue.
As the graph shows, SAP's cloud and software revenues continued to post growth in fiscal 2Q16. Collectively, these revenues grew by 7% to ~$4.8 billion. In constant currency terms, this growth was 11%.
In 2Q16, SAP's cloud subscriptions and support revenue grew by 30% to 721 million euros (about $805 million). In constant currency terms, this growth was 33%. New cloud bookings grew by 28% to 255 million euros (about $284.7 million).
Article continues below advertisement
Expansion in the cloud business and growth in support revenue led to an increase of one percentage point in predictable revenue in fiscal 2Q16. Predictable revenue stood at 63% in 2Q16, as compared to 62% in 2Q15. For the first half of fiscal 2Q16, predictable revenue improved by two percentage points to 66%.
Remember, if a majority of the company's revenues are recurring or predictable, the company will be better suited to hold strong in a tough economic and business climate.
Fiscal 2Q16 marked 13th straight quarter of more than 30% growth
The growing share of predictable revenue is in line with SAP's aspiration to become a cloud company, which it expects to be by 2018. This implies that SAP expects revenue of cloud-based software to outpace the revenue from traditional software licenses by 2018. The Washington Post stated that if M&A (mergers and acquisitions) effects are excluded, SAP has had 13 straight quarters of more than 30% growth from cloud offerings.
SAP's peer Microsoft (MSFT) is also making rapid strides in cloud space. Nomura estimates that cloud's contribution to Microsoft overall revenues will increase to ~30% by mid- to late-2018 from ~5% in early 2015.