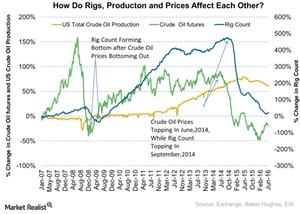 Analyzing Crude Oil Rigs, Production, and Prices
By Rabindra Samanta

Dec. 4 2020, Updated 10:53 a.m. ET
Last week's data
The US crude oil rig count was 341 for the week ending July 1, 2016. It was 11 more than the previous week, according to data released by Baker Hughes (BHI). Read How Did Oilfield Services Outperform Other Energy ETFs? to learn how rising rig counts impacted oilfield (OIH) (XES) services companies.
US crude oil (USO) (USL) production is 10.3% lower than it was at its peak in June 2015, according to weekly data. On July 5, 2016, crude oil prices were ~56.6% lower than their highs on June 20, 2014.
Article continues below advertisement
Rig counts and crude oil prices
Over the last ten years, the oil rig count and crude oil price's bottoms and tops have been between three and four months apart, according to research from Morgan Stanley. After the subprime crisis, when crude oil (USO) (UWTI) (DWTI) (SCO) (USL) touched multiyear lows in January 2009, the rig count bottomed out in May 2009.
According to this pattern, the rig count should have hit the bottom by June 2016. Crude oil (OIL) touched a 12-year low on February 11, 2016, before rebounding 77.8% on July 5, 2016. The oil rig count rose for the first time in 11 weeks in the week ending June 3. Since then, its has gained 16 rigs as of the week ending July 1.
Why the rig count is important for oil-weighted stocks
Upstream companies' reductions in capital expenditures resulted in a lower rig count and a fall in US crude oil production. Rig counts rising again will indicate that upstream companies are starting to increase their drilling activities. This could eventually result in higher crude oil production.
Higher production will weigh on crude oil prices. This could be an important factor for oil-weighted stocks such as Synergy Resources (SYRG), Carrizo Oil & Gas (CRZO), Bonanza Creek Energy (BCEI), and Halcon Resources (HK).
The Fidelity MSCI Energy Index ETF (FENY), the Guggenheim S&P 500 Equal Weight Energy ETF (RYE), and the iShares U.S. Oil Equipment & Services ETF (IEZ) are also impacted by higher crude oil production.
Next, let's look at the relationship between inventories and crude oil prices.