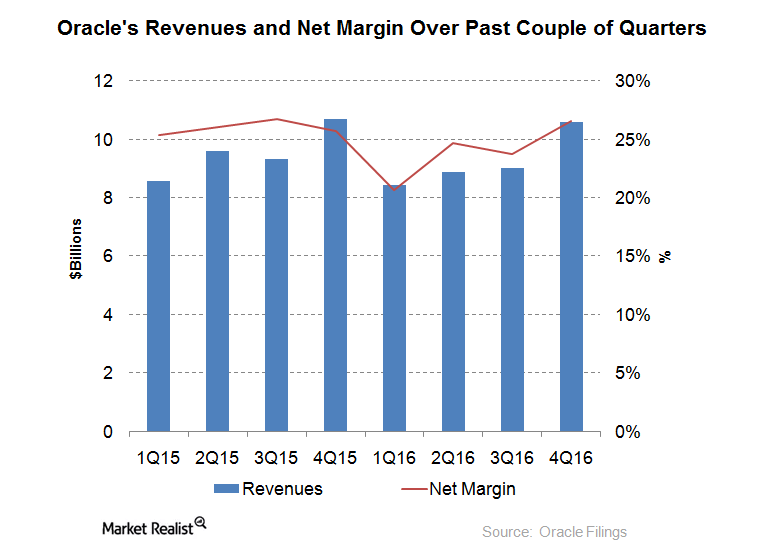 A Look into Oracle's Margin Growth in Fiscal 2016
Oracle's transition to cloud is a tricky business
So far in this series, we've discussed Oracle's performance in fiscal 2016. Oracle (ORCL), like its enterprise software peer IBM (IBM), is finding it difficult to see revenue growth.
Salesforce (CRM) is an exception, reporting 28% year-over-year revenue growth in fiscal 1Q17. Including fiscal 4Q16, in the past nine quarters, Oracle's revenues have missed analysts' expectations eight times.
Oracle is still in a transitional phase, shifting its operations from license sales to subscriptions. SaaS (software-as-a-service) revenues are usually more predictable than licensing deals, which is why they are increasingly preferred by software companies.
However, software companies like Microsoft (MSFT), Oracle, and IBM found this to be more complicated. These companies are accustomed to expecting huge revenues by closing large deals.
Article continues below advertisement
Oracle managed to achieve expansion in margins
Looking at Oracle's improved performance in the cloud space through its cloud revenues, the company generated confidence in itself. However, cloud revenues still are less than 10% of Oracle's overall revenues.
The strengthening US dollar (UUP) is also adding to its woes. As a result, the company's operating margins stayed flat at 37% in 4Q16.
As the above chart shows, despite no revenue growth in fiscal 4Q16, Oracle's net margins improved in fiscal 4Q16 on a sequential basis. SaaS and PaaS (platform-as-a-service) margins stood at 56% in fiscal 2016.
Commenting on the growth expected in its SaaS and PaaS revenues, Oracle stated, "Bookings in Q4 were also very strong enabling us to raise our guidance for Q1 SaaS and PaaS revenue growth, which we now expect to be between 75% and 80%."
You might consider investing in the SPDR S&P 500 ETF (SPY) to gain exposure to Oracle, which makes up 0.7% of SPY. Investors who would like application software exposure could also consider SPY. Application software comprises ~7% of SPY.