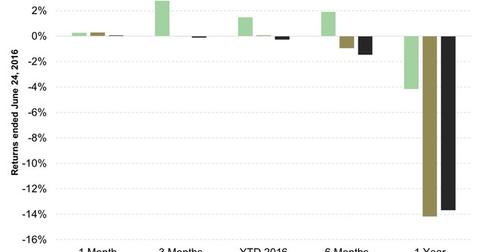 What's behind Fidelity Pacific Basin Fund's Good Run in 2016?
By David Ashworth

Updated
Performance evaluation of the Fidelity Pacific Basin Fund
The Fidelity Pacific Basin Fund (FPBFX) has been an excellent performer across all periods analyzed in the graph below. In the one-month and three-month periods until June 24, the fund comes in second among the funds reviewed in this series. For other periods, it has been the best performer among the eight funds in this review. We have graphed its performance against two combinations of ETFs: the Vanguard FTSE Pacific ETF (VPL) with the Vanguard FTSE Emerging Markets ETF (VWO) and the iShares Core MSCI Pacific ETF (IPAC) with the iShares MSCI Emerging Markets ETF (EEM).
Let's look at what has contributed to this stellar performance by the fund in YTD 2016.
Article continues below advertisement
Portfolio composition and contribution to returns
Stock picks from the consumer staples sector are the key reason behind the fund's excellent performance among its peers in YTD 2016. Thai Beverage has led the sector, and has had help from Australia's Asaleo Care, Indonesia's PT Gudang Garam Tbk, and Japan Tobacco (JAPAY). The absence of negative contributors has also been a key reason for the stellar showing by the sector.
Financials have been the biggest drag on the fund so far. Meanwhile, Fuji Heavy Industries (FUJHY) has weighed on the consumer discretionary sector. While healthcare and information technology have contributed positively so far, China Biologic Products (CBPO) has weighed on health care, while Lenovo Group Limited (LNVGF) has offset the positive contribution by Taiwan Semiconductor Manufacturing Company Limited (TSM) among tech stocks.
Investor takeaways
The FPBFX is not just the least decliner among its eight actively managed periods in the one-year period until June 24. It has convincingly beaten both combinations of ETFs that we outlined earlier. This fund shows the value a good actively managed fund can add to your portfolio. Standalone, its portfolio turnover is a bit high, though lower than its peers.
The fund is well diversified across sectors and countries and can provide a complete flavor of the region without going overboard on any geography or sector. Due to these reasons, the fund can certainly be on your shortlist of actively managed funds investing in Asia-Pacific.
Let's now move on to the Matthews Asia Dividend Fund – Investor Class (MAPIX).