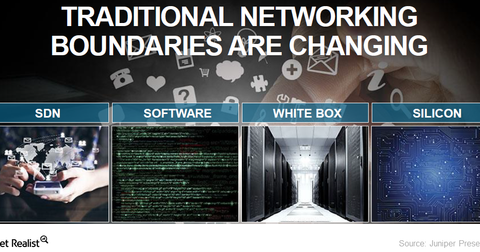 How Are Traditional Networking Boundaries Changing for Juniper?
By Adam Rogers

Jun. 15 2016, Updated 1:46 p.m. ET
Software-defined networking
According to Cisco Systems' annual report on market trends, another major market transition in the networking industry has been the move towards SDN (software-defined networking) and NFV (network function virtualization). The report states that "This transition is focused on moving from a hardware-centric approach for networking toward a virtualized network environment that is designed to enable flexible, application-driven customization of network infrastructures."
Article continues below advertisement
A few companies offer network operating systems disaggregated from hardware. Facebook (FB) has started the OCP (Open Compute Project), through which it will buy "white box" hardware directly from manufacturers. This customized hardware will meet Facebook's specific requirements. The OCP is an organization that shares designs of data center products among companies including Intel (INTC), Apple (AAPL), and Microsoft (MSFT).
White box manufacturers
A white box is a personal computer or server, whereas white box manufacturers are unbranded players. They're also called ODMs (original design manufacturers). These systems are not only cheaper than branded systems, but they also provide opportunities for companies to get systems customized according to their computing needs.
Amazon (AMZN) and Google (GOOG) (GOOGL) have started to promote this trend by buying white box systems. The result of this trend is that white box manufacturers are seeing rapid growth in their businesses.
Article continues below advertisement
According to a report from Gartner, Cisco saw revenue growth of 20.2% in 2015 in the worldwide server market. It was closely followed by the "others" category, which includes ODMs. Other top players in the server market include IBM, Dell, and China's (FXI) Lenovo, which had revenue growth of 10.3%, 4.5%, and 2.9%, respectively, in 2015.
Focus on software business
According to Juniper Networks (JNPR), its increased focus on software business models will result in an increase in software revenue as a percentage of total revenues in the long run. The company remains positive about its routing, switching, automation software, and security segment. It spans five solution domains: data center, core, edge, campus and branch, and access and aggregation.