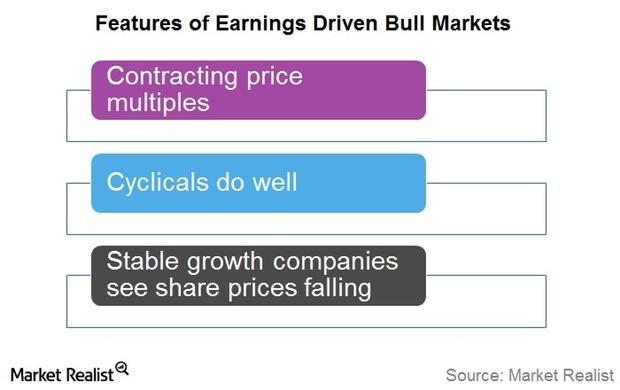 Portfolio Construction in Earnings-Driven Bull Markets
By David Ashworth

Jun. 14 2016, Updated 5:36 a.m. ET
Focus on contracting PE multiples
In the previous part, we looked at what Richard Bernstein had to say about portfolio construction during interest rate–driven bull markets. Coming to the less-acknowledged earnings-driven bull market, he provided his views regarding portfolio construction in his monthly "Insights" newsletter for June 2016.
According to Richard Bernstein, "portfolio construction during an earnings driven-market needs to focus on PE contraction." Earlier in the series, we discussed that he thinks that a bull market doesn't need to be accompanied by a rise in the PE (price-to-earnings) multiple.
Article continues below advertisement
Unlike an interest rate–driven bull market, an earnings-driven bull market needs to focus on falling PE multiples. However, it's important to see which part of the PE multiple is leading to a contraction. The PE has two components—current price in the numerator and EPS (earnings per share) of either the past or future four quarters in the denominator. This means that a PE ratio may contract for two reasons:
a fall in price with the denominator remaining the same
a rise in earnings with the price remaining the same
Portfolio construction 
Richard Bernstein notes that the contraction in the PE multiple during earnings-driven bull markets needs to be due to a rising EPS number rather than the falling price component.
Cyclical stocks tend to do better than stable growth companies in earnings-driven bull markets. "Cyclical companies' incremental earnings growth more than offsets the negative effect of rising rates." Automakers (HMC) (TSLA), airline stocks (DAL) (LUV), and hotels (IHG) (HOT) are good examples of cyclical stocks.
Richard Bernstein explains that stable growth companies see contracting PE multiples as their price goes down while earnings remain stable.
In the next part, we'll look at why Richard Bernstein Advisors is positioned for an earnings-driven bull market for stocks (FTQGX) (IVE).