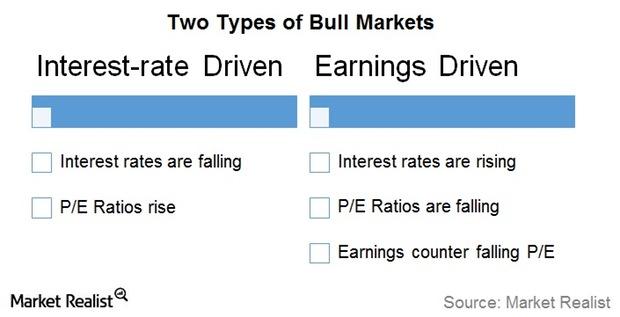 Richard Bernstein Discusses Another Type of Bull Market
By David Ashworth

Jun. 13 2016, Published 8:41 a.m. ET
Another type of bull market
If you want to frustrate Richard Bernstein, just tell him that if the PE (price-to-earnings) ratios aren't rising, then we can't have a bull market. He discussed this in his monthly "Insights" newsletter in June 2016. He completely disagreed with the assertion.
Richard Bernstein stated that there are two types of bull markets:
interest rate–driven bull markets
earnings-driven bull markets
Article continues below advertisement
Interest rate–driven bull markets
These bull markets are characterized by declining interest rates and rising PE ratios. These conditions are what characterize a bull market for many people. Although Richard Bernstein agrees with this, he implies that it's the other bull market that investors usually don't believe in that much. This is because the "secular fall in interest rates since 1980" gave rise to the view that the previously mentioned conditions are necessary for a bull market in the US (APGAX) (BBGLX).
Earnings-driven bull markets
Richard Bernstein points to history, stating that "there have been many periods of significant returns during rising interest rate environments." The main reason responsible for the bull run is the rise in earnings. Growth in corporate earnings helps offset the contraction in the PE ratio when interest rates are rising. In his "Insights" newsletter for May 2016, Richard Bernstein highlighted the importance of corporate profits for stock markets (SCHD) (FV) (FDL).
Portfolio construction during both of these markets needs to be different. In his monthly "Insights" newsletter for June, Richard Bernstein went into detail about how equity portfolios are positioned to benefit from both types of bull runs. We'll take a look at portfolios during the interest rate–driven bull markets in the next part.