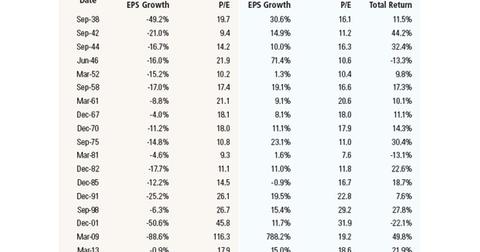 Richard Bernstein Advisors Expects Corporate Profits to Grow 20%
By David Ashworth

Updated
Post profit recession
In his "Insights" newsletter for June 2016, Richard Bernstein shared some of his firm's research. Part of the research was focused on the performance of stocks (USMV) after the trough of a corporate profits recession. The following table is from Bernstein's newsletter.
The table intends to show how stock markets (SPLV) perform in the year after a corporate profit recession. The assessment made by Richard Bernstein Advisors is that an earnings-driven bull market mostly follows a profit recession. The newsletter states that it excluded 2009 because of its extreme nature. The firm states that "Typically, the market advances about 13-15% and multiples contract about 1-2 multiple points."
Article continues below advertisement
Richard Bernstein Advisors' estimates
Richard Bernstein Advisors' earnings forecast for the 12-month period until June 2017 (comprised of four quarterly results) is ~$115. The S&P 500 PE (price-to-earnings) multiple, according to the trailing generally accepted accounting principles earnings, is ~24. The newsletter states that if the price multiple contracted by 2 multiple points, it would result in an S&P 500 level of 2,500. This would imply a 20% expected return.
According to the firm, the stock market could return zero if the PE multiple contracted from 24 to 18. Although it isn't possible in theory, such a contraction in the multiple would be extremely bearish.
Comparison with 2001–2002
In his June newsletter, Richard Bernstein said that 2001–2002 saw a sharp contraction in the PE multiple. However, it's the opposite of the case nearly 15 years ago. Then, investors were in the tech boom. They were looking for capital appreciation. Currently, investors are cautious. They're looking for income and protecting the downside of their portfolio. According to investors, a repeat of 2001–2002 doesn't seem likely.
Even the tech sector, the sole cause of the bust in 2001–2002, is very different now. Pets.com and Webvan gave way to more solidly-based companies like Google (now Alphabet) (GOOG), Apple (AAPL), and Qualcomm (QCOM).
Richard Bernstein Advisors thinks that guessing 2015's events into this year and the next isn't a smart decision. Let's see why in the next part.