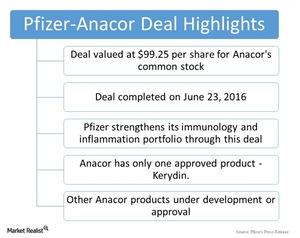 The Pfizer-Anacor Deal Wrapped Up in June: Now What?
By Mike Benson

Updated
Pfizer-Anacor deal
On June 23, 2016, Pfizer (PFE) completed the acquisition of Anacor Pharmaceuticals (ANAC). The stock transaction is valued at $99.25 per Anacor share, resulting in a total enterprise value of ~$5.2 billion.
According to a Pfizer press release, each outstanding Anacor share is converted into the right to receive $99.25 in cash. Pfizer and Anacor started joint operations on June 24, 2016. The deal will strengthen Pfizer's immunology and inflammation portfolio.
Article continues below advertisement
A look at Pfizer
Pfizer, founded in 1849, is one of the largest companies by revenue worldwide. Headquartered in New York City, the company operates in the biopharmaceutical (medicines and vaccines) and consumer healthcare segments.
Since 2014, Pfizer's new structure has divided the company into two parts: innovative pharmaceuticals and established pharmaceuticals. The company has more than 78,000 employees and more than 500 subsidiaries worldwide.
A look at Anacor
Anacor is a California-based biopharmaceutical company. It's focused on developing and commercializing boron-based drugs for the treatment of various inflammatory, fungal, and bacterial diseases.
Kerydin is the first approved product in Anacor's portfolio. Anacor entered into a collaborative agreement with Novartis (NVS) in July 2014 through which Kerydin is marketed in the United States under the brand PharmaDerm from Sandoz's portfolio of Novartis.
Apart from Kerydin, Anacor has discovered Crisaborole and three other investigational compounds. Crisaborole is developed for the treatment of psoriasis and atopic dermatitis. The company also entered into a collaborative agreement with Eli Lilly (LLY) for the development of boron-based animal health products.
Investors can consider ETFs such as the iShares US Healthcare (IYH), which holds ~8.9% of its total investments in Pfizer and ~5.3% in Allergan (AGN).