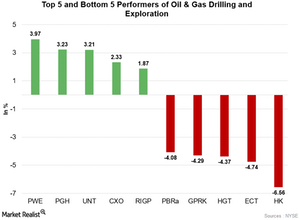 Performance of Crude Oil–Related Stocks on Tuesday, June 14
By Val Kensington

Jun. 15 2016, Updated 11:20 a.m. ET
Energy sector weakened on Tuesday
On Tuesday, June 14, 2016, the crude oil sector declined amid global economic concerns. This weakness was shifted to some of the crude oil–related companies during the day.
At 3:28 PM EDT, the United States Oil ETF (USO), the Energy Select Sector SPDR ETF (XLE), and the PowerShares DB Oil ETF (DBO) fell by 0.09%, 0.46%, and 0.44%, respectively.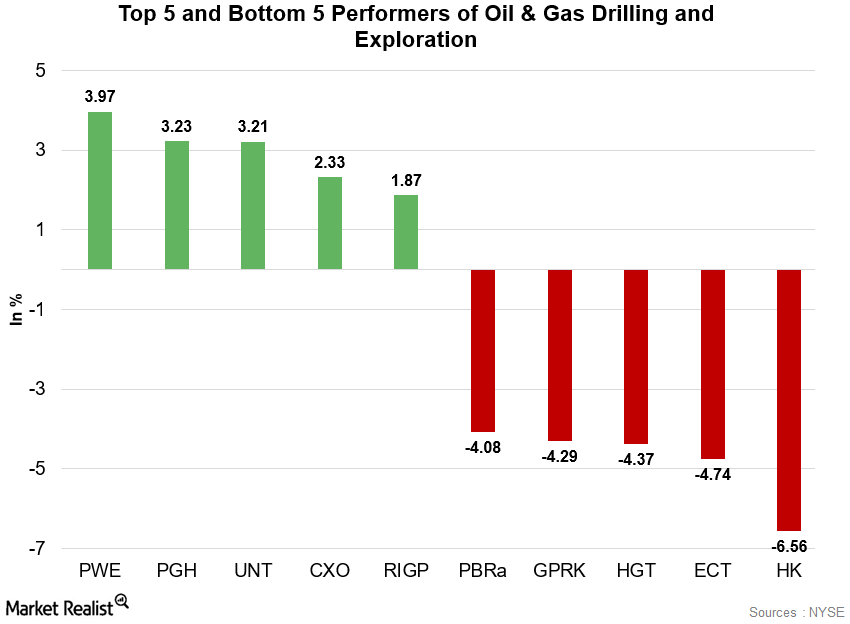 Article continues below advertisement
A relief to Chevron and Royal Dutch Shell
Among the major oil producers in Canada, Chevron (CVX) and Royal Dutch Shell (RDS.A) got some relief on Tuesday as the Nigerian militant group, the Niger Delta Avengers, agreed to peace talks with the African country's government.
The multiple attacks by these militants on the oil infrastructure belonging to Chevron, Royal Dutch Shell, and other major companies resulted in a drop of their oil output and the nation's daily oil production. These attacks forced Nigeria's oil production to drop to the levels not seen in the past 27 years, which resulted in a drop of 800,000 bpd of production.
At 3:38 PM EDT, Chevron (CVX) fell by ~1.0% to $101.05, and Royal Dutch Shell (RDS.A) fell by ~2.5% to $49.29. ConocoPhillips (COP) rose by 0.77% at 3:42 PM EDT on Tuesday and traded at $44.24. ConocoPhillips recently turned down a $2 billion takeover of its assets in the North Sea. At the same time, ExxonMobil (XOM), one of the major oil companies in the US, fell by 0.29% to $90.32.
The top five performers in the oil and gas drilling and exploration sector of the energy industry are:
In the same industry, the top five losers in that sector are:
Halcon Resources (HK)
ECA Marcellus Trust I (ECT)
Hugoton Royalty Trust (HGT)
GeoPark Ltd (GPRK)
Petroleo Brasileiro A (PBRa)
The performance of these stocks on Tuesday, June 14, 2016, is shown in the above chart.
The following article explains copper's performance on Tuesday.