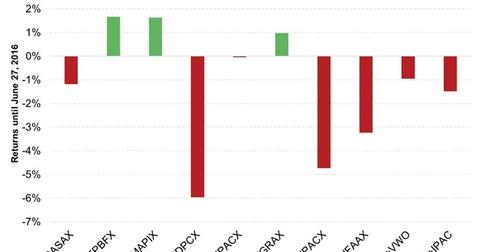 Why Should You Look at Asia-Pacific for Investments?
By David Ashworth

Updated
Brexit and global turmoil
Market volatility went up to a whole new level with the UK voting itself out of the European Union. After the initiation of impeachment proceedings against Brazil's Dilma Rousseff, Brexit is the second major geopolitical event to rock the investment landscape in 2016. And the year is barely half done. Compared to Rousseff's temporary ouster pending impeachment proceedings, Brexit assumes much greater importance for the global economic landscape.
Article continues below advertisement
After 2010, it seemed that the world's economic troubles were over. However, Europe's PIIGS (Portugal, Italy, Ireland, Greece, and Spain) nations nearly pushed the global economy into another recession. And now, Britain has done the same thing, though in a different way. The move means that a weak economic situation in Europe and Japan is necessary for further policy stimulus. For the US, it may mean a delay in rate hikes.
Could Asia be the answer?
With Brexit having forced a change in the political and economic landscapes and the uncertain investment implications, you may need to look at including Asia, both developing and emerging, in your portfolio. This is not to say that Brexit will have no impact on countries in this region. However, their diversity and variety make for a compelling investment proposition.
Asia consists of developed nations like Japan (EWJ), Hong Kong (EWH), and Singapore (EWS) and emerging nations like India (EPI) and China (two of the four BRIC members). While developed nations can work as anchors for your Asian investment, emerging nations can provide an edge to your investment.
In this series, we'll look at mutual funds that help you invest in the Asia-Pacific region (VPL) and give you access to stocks from the region. We'll look at their performance in light of two combinations of two ETFs each that can provide similar exposure. The first combination is the Vanguard FTSE Pacific ETF (VPL) and the Vanguard FTSE Emerging Markets ETF (VWO). The second is the iShares Core MSCI Pacific ETF (IPAC) and the iShares MSCI Emerging Markets ETF (EEM).
We'll begin our series with an overview of the Columbia Pacific/Asia Fund – Class A (CASAX).