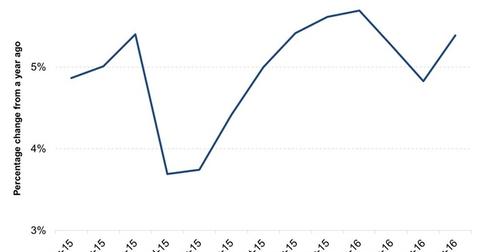 The Key Reason India's Central Bank Stood Pat on the Repo Rate
By David Ashworth

Updated
Being watchful on inflation
Inflation is a key metric that monetary policymakers look at while narrowing down their options regarding a policy stance. The RBI's (Reserve Bank of India) primary gauge of measuring inflation is consumer price inflation. In India (PIN) (FINGX), another important measure of inflation is the wholesale price index.
For the RBI (Reserve Bank of India), retail inflation, as measured by the CPI (consumer price index), had remained benign and below the RBI's target of 6% by January 2016. It continued to decline YoY (year-over-year) in February and March. However, in April, the CPI's growth rate rose on a YoY basis, as seen in the graph above.
Article continues below advertisement
A rise in inflation
The primary reason that CPI growth rose in April was a jump in food prices. The sharp rise in food prices was not seasonal.
Apart from food prices, CPI growth rose due to a rise in crude oil prices (TS) (RDS.B) (TOT). India is a net importer of crude oil. The sharp fall in crude oil prices from mid-2014 to mid-February 2016 was immensely beneficial to consumers and to government finances. It helped the government to completely remove subsidies on petrol.
However, the rise in crude oil prices over the past three months has resulted in a sharp rise in petrol and diesel prices. This has led to a rise in core inflation, which excludes food and fuel prices, due to its impact on transportation and communication services. With inflation rising unexpectedly, there was little reason for the RBI to consider a repo rate cut in its June meeting.
In the next part of this series, we'll discuss why food prices are important for India's inflation rate.