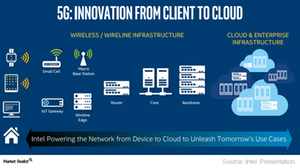 Intel to Leverage Its Product Portfolio to Tap IoT Growth
By Puja Tayal

Updated
IoT market outlook
In the earlier part of the series, we saw the factors that are driving Intel's (INTC) data center growth. Now, we'll look at Intel's IoT (Internet of Things), another major growth for the company.
IoT is what connects all devices to the Internet, and this market is expected to generate $4 trillion to $11 trillion in value globally in 2025, according to McKinsey Global Institute.
Article continues below advertisement
Opportunities in IoT
IoT has a huge potential to create value for technology firms in the form of hardware, software, services, and integration. Semiconductor companies would benefit from increasing demand for microcontrollers, sensors, connectivity, and memory.
Many semiconductor companies plagued with the PC and smartphone slowdown are moving to IoT for growth. These companies include Intel, Qualcomm (QCOM), Texas Instruments (TXN), and Skyworks (SWKS).
Challenges in IoT
However, there are several roadblocks that are slowing IoT growth:
lack of adequate data security for IoT
lack of customer demand due to the absence of a single application that provides comprehensive solutions
lack of consistent standards
the fragmented IoT market, which makes it unprofitable to invest in every single vertical such as wearables and smart homes
In such a fragmented market, it's important for a semiconductor company to identify the right vertical that best fits its current capabilities. For instance, SWKS is leveraging its RF (radio frequency) content in the wearable vertical.
Intel inside IoT
Intel is leveraging its diverse portfolio to provide one solution from device to cloud. The solution will use its microprocessors and memory to power IoT devices, its baseband modem to power communications infrastructure, and its x86 processors to power the cloud and enterprise storage.
QCOM will be Intel's biggest competitor, as the former's ARM processors are more feasible than Intel's processors for IoT devices.
However, big data and cloud companies such as Google (GOOG) would be bigger beneficiaries of IoT than semiconductor companies. A good example is that of smartphones, where software firms and device makers benefit the most while semiconductor players only benefit at the chip level.
IoT is still a very small segment for both INTC and QCOM, contributing in the low-single digits towards the company's revenue. It remains to be seen how the two companies extract value from IoT.
Next, we'll look at other supplementary products that Intel offers. The iShares Russell 1000 ETF (IWB) has holdings in large-cap US equities across various sectors including technology. It has 0.72% exposure in INTC, 0.39% in QCOM, and 0.32% in TXN.