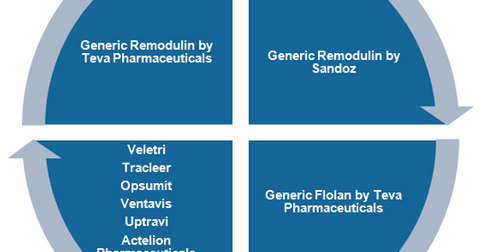 Could Generic Competition Impact United Therapeutics' Remodulin Sales after June 2018?
By Margaret Patrick

Updated
Patent protection
In addition to the patent related to the active ingredient in Remodulin, the prostacyclin analogue trepostinil, which will expire in October 2017, United Therapeutics (UTHR) also holds four additional patents specifically related to the diluents and modes of administration for Remodulin. The company has been involved in litigations to prevent generic competition from entering the market prior to the expiration of Remodulin's patents.
Article continues below advertisement
Generic competition
Remodulin already faces competition from a generic version of GlaxoSmithKline's (GSK) pulmonary arterial hypertension (or PAH) drug, Flolan, marketed by Teva Pharmaceuticals (TEVA) since 2008. Additionally, the FDA (US Food and Drug Administration) also approved Actelion Pharmaceuticals' Veletri in 2008. While both Flolan and Veletri contain the same active ingredient as Remodulin, epoprostenol, Veletri can be stored without refrigeration.
In September 2015, United Therapeutics settled a litigation with Sandoz, a subsidiary of Novartis (NVS), which allows the latter to commercialize generic Remodulin after June 2018. The company has also settled a lawsuit with Teva Pharmaceuticals, which will be allowed to market its generic Remodulin after December 2018.
Article continues below advertisement
Remodulin's profile
Remodulin possesses several properties that make it stand apart from the competition. In addition to being stable at room temperature, the drug displays high solubility. This allows for the drug to be administered as a concentrated solution with the aid of miniaturized pumps.
United Therapeutics has entered into an agreement with Medtronic to use the latter's proprietary device technology for developing a Remodulin implantable system. The combined device-drug combination is expected to be approved by the FDA in 2017.
After approval, the Remodulin implantable system is expected to reduce the inconvenience and complications faced by PAH patients during the use of external pumps for delivering the drug. This should boost the drug's sales as well as United Therapeutics' share prices, and it may also have a positive impact on share prices of the SPDR S&P MIDCAP 400 ETF (MDY). United Therapeutics makes up about 0.33% of MDY's total portfolio holdings.
In the next part, we'll analyze the company's leading PAH drug, Tyvaso.