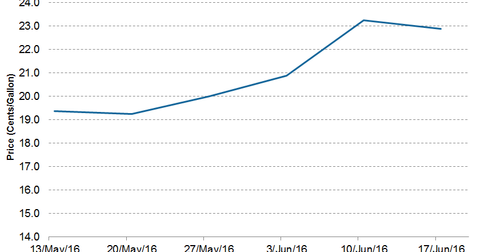 Ethane Prices Fell Last Week: How It Impacted MLPs
By Kurt Gallon

Jun. 21 2016, Updated 8:07 a.m. ET
Ethane prices
Mont Belvieu ethane prices fell last week after rallying for three consecutive weeks. Ethane fell by 1.6% to $0.228 per gallon in the week ended June 17, 2016. It had risen by 11.4% to $0.233 per gallon in the previous week. However, ethane prices have fallen significantly over the years.
Low ethane prices and higher costs for storing and transporting ethane have resulted in ethane rejection. This means that producers are leaving ethane in the natural gas stream.
Extracting ethane isn't always economical when prices are low. The costs of storing and transporting ethane are higher than the related costs for hydrocarbon gas liquids products. Read What is ethane rejection and why is it important for energy MLPs? to learn more about ethane rejection.
The above graph shows ethane prices over the past six weeks. Enable Midstream Partners (ENBL), Tallgrass Energy Partners (TEP), and Summit Midstream Partners (SMLP) are among the midstream MLPs that are engaged in natural gas gathering and processing. These MLPs benefit from rises in ethane prices.
Article continues below advertisement
Key developments
Recent developments in the ethane market are expected to have positive impacts on MLPs involved in ethane projects. These MLPs include Sunoco Logistics Partners (SXL), Energy Transfer Partners (ETP), DCP Midstream Partners (DPM), and Enterprise Products Partners (EPD).
One recent development is higher ethane use from petrochemical companies. Lower ethane prices have resulted in petrochemical companies' using ethane more often as a feedstock in place of naphtha.
According to Wouter van Kempen, DPM's CEO, "There are billions of dollars of investments in petchem facilities that are expected to come online in 2017 and 2018, and those crackers crack only one thing. That is ethane."
He continued, "These expansions, along with [BDH] facilities and exports, are anticipated to need ethane in excess of what is currently being rejected by the industry. And to give you some perspective, over 650,000 barrels per day of ethane are currently being rejected."
Ethane infrastructure
Ethane-related infrastructure, including plants to convert ethane to ethylene, has been developing in the United States. This development reflects the rising demand for petrochemical companies, which is positive for ethane demand. Eventually, it will also be positive for prices.
Some companies are investing in export terminals for ethane. There are attractive export markets for ethane in Canada, Asia, and Europe.