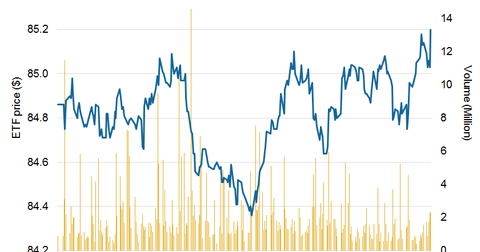 Brexit's Impact on US Equities and Economy
By Robert Karr

Updated
Fundamentals taking a debt
The US economy is relatively strong compared to the European Union and other developed economies. The US dollar rose against all major currencies except for the Japanese yen on the news of Brexit.
The economy is expected to expand at a rate of 1.9%, more than any other major economy. Economists expect a high probability of recession outside of the United States rather than domestically.
The US unemployment rate fell to 4.9% in 2016 compared to 5.0% in December 2015, reflecting stability on a macroeconomic level. Federal Reserve vice-chair Stanley Fischer voiced concerns about the global equity rout, stating, "Global market volatility could lead to a persistent tightening of financial conditions, which in turn could signal a slowing in the global economy that could affect growth and inflation in the United States."
Article continues below advertisement
Bonds rally
Investors have shifted to Treasuries and government bonds across major developed economies. The yield for Japanese benchmark 10-Year bonds (JGBD) has fallen below zero for the first time. Japan's TOPIX has fallen by 6%, and 10-Year bond yields stand at -0.01%.
US Treasury yields (SHY) are approaching the all-time lows that were achieved in 2012. These yields are reflective of the panic present among investors regarding a possible recession in the global economy.
Retail participation
Banks and asset managers are targeting retail players for the deployment of funds and borrowings. BlackRock's (BLK) retail business had assets under management (or AUM) of $542 billion on March 31, 2016. Retail AUM formed 12% of the company's total AUM. Retail long-term inflows for the quarter stood at $1.0 billion, driven primarily by investment performance from the company's fixed-income platform.
The company saw an outflow of $0.4 billion in the retail segment for the first time since the 2007 crisis. Fixed income saw net inflows of $2.1 billion, paced by flows into municipal, core bond, and high yield funds. State Street (STT), Vanguard, Blackstone (BX), and major banks such as JPMorgan Chase (JPM) are vying for retail participation to boost their domestic businesses.