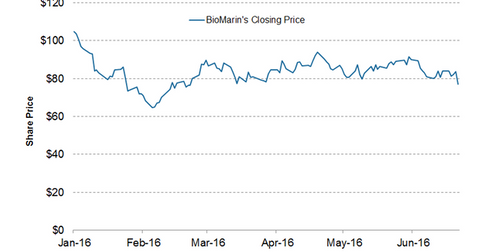 Why Did BioMarin's Share Price Tank after Brexit?
By Jillian Dabney

Updated
Share price performance
After the UK's so-called "Brexit" decision to withdraw from the EU, there was a sudden shock to global markets on June 24. BioMarin Pharmaceutical (BMRN) lost ~11% of its value in the subsequent two days. Its closing share price dipped from $83.65 on June 23 to $74.61 on June 27. (For more on BioMarin's various risks, please refer to "R&D Failure Is the Principal Risk Faced by BioMarin.")
Following the UK's Brexit decision on June 24, closing share prices for companies with major European exposure such as Alexion (ALXN), Amgen (AMGN), and Celgene (CELG) on June 27 dropped by 9%, 5%, and 6%, respectively.
Article continues below advertisement
How significant is Europe's share?
Earlier in 2008, Europe's contribution to BMRN's total sales was 25%. It gradually declined to 20% of total sales in 2015. Although there has been a decrease, it still represents a significant force in BioMarin's operations.
During the first three months of fiscal 2016, Europe's contribution to total revenue rose to 27% of net product revenues. This exposes BioMarin to the significant risk of falling sales because Europe is expected to remain weaker near term.
Given the foreign exchange impact on BioMarin's sales, it may need to lower its 2016 guidance because the depreciated euro will also lead to lower sales. (In the next part, we'll discuss this further.)
Significant risks with accounts receivables
BMRN has major exposure to the US and Europe, and hence, major ports of trade receivable come from these two regions. But with the weaker Europe, the company's receivables collection period could get prolonged. As the sales are made to either government-owned or government-funded customers, the UK's recent decision to leave the EU may lead to sovereign defaults if conditions worsen.
Notably, on March 31, 2016, BMRN's accounts receivables in Italy, Portugal, Spain, and Russia accounted for 14% of total receivables.
So after factoring in the risks involved in investing directly in a biotech company's equity, you might choose to invest in an ETF like the PowerShares Dynamic Biotechnology & Genome Portfolio (PBE). PBE only lost 8% of its value in the two days following Brexit—notably less than BioMarin's losses.