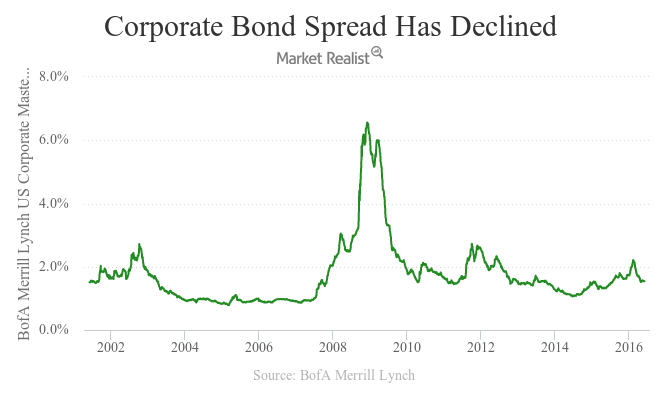 Bill Gross Analyzed 'Carry' in Credit Risk, Volatility, and Liquidity
By David Ashworth

Dec. 4 2020, Updated 10:53 a.m. ET
"Carry" in credit risk
Credit risk represents the risk that an issuer may not be able to honor his debt repayment commitment. The higher the credit risk, the higher the interest demanded by bond buyers. High-yield bonds (HYG) (SJNK) provide much higher yield than their investment-grade peers. They're known to have a very high credit risk attached to them.
In his June 2016 investment outlook, Bill Gross stated that "credit risk or credit 'carry' offers little reward relative to potential losses." Referring to investment-grade corporate bonds (LQD) (VCSH) (NCOAX), he said that a five-year investment-grade bond held over the coming year is providing a reward of only 25 basis points over Treasuries. Treasuries don't have any credit risk. The spread is 75 basis points, but the expected return is only 25 basis points. This shows that the reward for holding a riskier bond than Treasuries is low.
[marketrealist-chart id=1354898]
Article continues below advertisement
"Carry" in volatility
Bill Gross stated that "Any investment longer or less creditworthy than a 90-day Treasury Bill sells volatility whether a portfolio manager realizes it or not." However, he said that the Treasury MOVE Index, which measures volatility in Treasuries—very much like the VIX does for equities, is near historic lows.
This means that if you were to try to gain by selling volatility in the Treasuries space, you would get little in return.
"Carry" in liquidity
Bill Gross stated that spreads in illiquid investments have fallen to historic lows. He said that "Liquidity can be measured in the Treasury market by spreads between "off the run" and "on the run" issues – a spread that is nearly nonexistent." A higher spread is usually expected for less liquid bonds. This implies that less liquid Treasury bonds have nearly no "carry."
He said that the same can be witnessed in the discount-to-net asset values of closed-ended funds. They're also historically low. This reinforced the fact that investing in illiquid bonds isn't rewarding, even though it entails a high risk.
If Bill Gross is correct in saying that "carry" is nearly over, what can investors do? We'll discuss this in the next part.