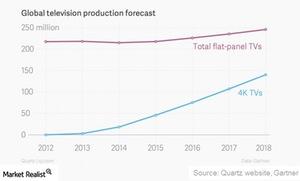 Why Is Amazon Jumping on the HDR Content Bandwagon?
By Shirley Pelts

Updated
Amazon is offering HDR content
A few days ago, Amazon (AMZN) and Dolby Laboratories (DLB) announced that Amazon will offer HDR (high dynamic range) content. This will include its original series, Bosch, and other popular movies on Amazon Prime Instant Video.
Amazon has joined Netflix (NFLX) in offering HDR or 4K (4,000-pixel) content. Earlier this year, Netflix stated that it's shifting to HEVC (high-efficiency video encoding) h.265 technology from h.264 so it can stream 4K video content at low bit rates. It added that Alphabet's (GOOG) YouTube is another company that has "made great progress" using h.265 technology.
Other companies that are also moving to 4K include Comcast (CMCSA) with its Xi6 set-top box that's 4K- and HDR-capable and Dish Network (DISH) with its Hopper DVR (digital video recorder) that's compatible with a 4K television.
Article continues below advertisement
Why is 4K content so popular?
Companies such as Netflix started offering 4K content for UHD (ultra high-definition) televisions in the second quarter of 2014. When Netflix first introduced content for UHD television, 4K televisions were an expensive item. However, as prices for UHD TVs continue to fall, more people are opting to buy them. According to a Quartz report citing a report by Gartner, 4K televisions will make up 57% of total TVs produced globally by 2018.
Amazon makes up 1.5% of the SPDR S&P 500 (SPY) ETF. SPY has an exposure of 3.4% to the computers sector.