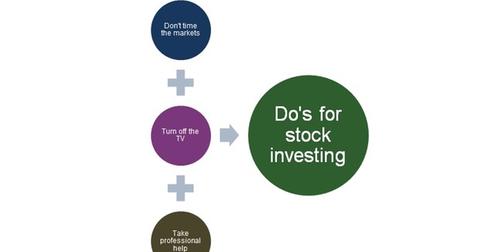 Investing Do's and Don'ts from Richard Bernstein
By David Ashworth

Updated
A strict "no" from Richard Bernstein
If Richard Bernstein were to advise you on your stock investments, he'd like to deter you from engaging in the following three activities. He expressed these points during an interview with CNBC's Michael Santoli.
Article continues below advertisement
Trying to time markets
At some point, most investors can be tempted to time the markets. This aspect can be alluring for some, especially when we hear about an analyst or investor going long or short on a market or asset class—and getting it right. We want to be the next one who gets it right.
However, what happens more often than not is that retail investors end up buying high and selling low—the opposite of what they should be doing. Timing the market is not a forte of professional money managers either. However, experience with different business cycles is what differentiates expert advice from an anonymous stock tip.
Keeping the TV on
Watching the latest season of an interesting series was not what Richard Bernstein was referring to—and he's not betting against television manufacturers or cable companies either. What he was referring to was watching too much business or stock market news. In his opinion, television makes everything seem important. He added that for an investor, the skill is not to understand what's going on but to understand what's important and what's not.
It is also important to note that if it is on TV, the news has already been priced into the stock price of the company in question, making it of little use for making investment decisions.
Investing on your own
Bernstein's opinions may seem biased, as they come from someone who owns a money management firm, but it is not without merit.
If you're an individual investor and have been doing well for a long time, you're probably doing well enough on your own to skip seeking professional advice. However, for most of the investing population with jobs that demand most of their attention, putting time and effort into investing may not seem worthwhile.
These investors can either engage a money management firm or choose actively managed mutual funds (VPMCX) (USAAX) to grow their money for them. Passively managed funds (RSP) (MDY) (IJR) are also available, which can help you invest across market caps and styles.
Speaking of passive products, Bernstein also had something to say about index products. Let's look at his views in the final article of this series.