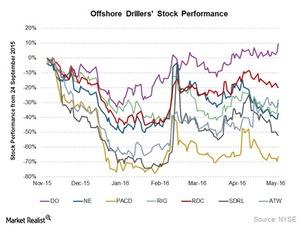 Why Pacific Drilling Opted for a Reverse Stock Split
By Sue Goodridge

Nov. 20 2020, Updated 3:43 p.m. ET
From $0.4 to $4
Two days ago, Pacific Drilling (PACD) was trading at $0.41 per share, and now the stock price is $4.10. Investors need not jump for joy, as this is not a stock price surge. It's just a reverse stock split.
Article continues below advertisement
What is a reverse stock split?
A reverse stock split is a corporate action that reduces shares outstanding and increases the share price. However, this doesn't add any real value to the company. Its market capitalization and fundamentals remain the same.
Why did Pacific Drilling need a reverse stock spilt?
Pacific Drilling's reverse stock split went into effect on May 25, 2016. The company's shareholders approved a one-for-ten reverse stock split of the company's common shares. In this action, the share price jumped from $0.41 to $4.10, and shareholders get one new share for their ten old shares. The total number of shares outstanding decreased to 22 million from 225 million.
The oil price slump, which began in late 2014, has shaken the offshore drilling industry. As you can see in the above chart, stock prices of all offshore drilling (IYE) companies came tumbling down in 2015. Pacific Drilling, which was struggling for survival due to difficulty in adhering to its covenants, saw its share prices fall below $1. The company received covenant relief in November 2015. A stock valued at less than $1 is considered a penny stock. Due to this, the company didn't satisfy NYSE's listing criteria. It received a notice in January 2016 that to continue its listing on the NYSE, the company's closing price must be at least $1 per share for a minimum of 30 consecutive trading days before July 13, 2016. This made a reverse stock split inevitable.
Pacific Drilling recently released its 1Q16 earnings. Also, investors can take a look at how its peers Ensco (ESV), Rowan Companies (RDC), and Diamond Offshore (DO) fared in the first quarter.