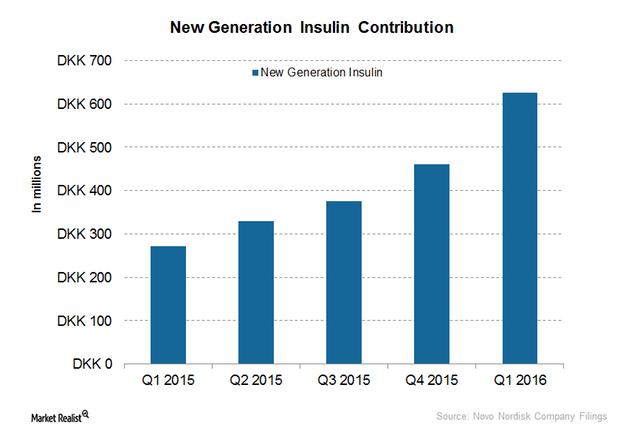 How Much Did the New Generation Insulin Fetch for Novo in 1Q16?
By Jillian Dabney

Dec. 4 2020, Updated 10:52 a.m. ET
New generation insulin
During 1Q16, Novo Nordisk (NVO) generated ~77% of its total revenue from its diabetes portfolio. New generation insulin includes sales from Tresiba, Xultophy, and Ryzodeg.
The portfolio recorded revenue amounting to 626 million Danish krone in 1Q16.
Article continues below advertisement
Tresiba
Tresiba earned 545 million Danish krone, 87% of total new generation insulin sales in 1Q16. For details on new generation insulin, you can read How Tresiba and Xultophy Will Drive Novo's Performance and Next-Generation Insulin: Novo Nordisk's Major Growth Driver?
The product is available in 43 countries. In Japan, it holds 34% of the basal insulin market in value terms. It's reimbursed at the same levels as insulin glargine U100. In the United States, it's received a wide formulary coverage, while in the United Kingdom it has restricted market access. Tresiba competes with GlaxoSmithKline's (GSK) Tanzeum, Sanofi's (SNY) Toujeo and Lantus, and Eli Lilly's (LLY) Basalgar.
Xultophy and Ryzodeg
Xultophy and Ryzodeg have both been launched in five markets. Ryzodeg is available in Russia, Japan, Mexico, Bangladesh, and India, and Xultophy is available in Switzerland, Germany, the United Kingdom, and Sweden.
The diabetic market has fierce competition, with companies continuously launching novel therapies. The successful launch of a new product imposes a threat to an established old product. Continuous research and launches of novel molecules remain the keys to success in the space.
Similarly, rising pricing pressures from the government affect profitability for companies, as they have to offer higher rebates and discounts to remain competitive.
To diversify the risk of investing directly in Novo Nordisk, investors can look for options such as the Vanguard FTSE All-World ex-US ETF (VEU). VEU holds 0.3% of its total holdings in Novo Nordisk.
We'll take a look at the modern insulin portfolio's performance in the next part of the series.