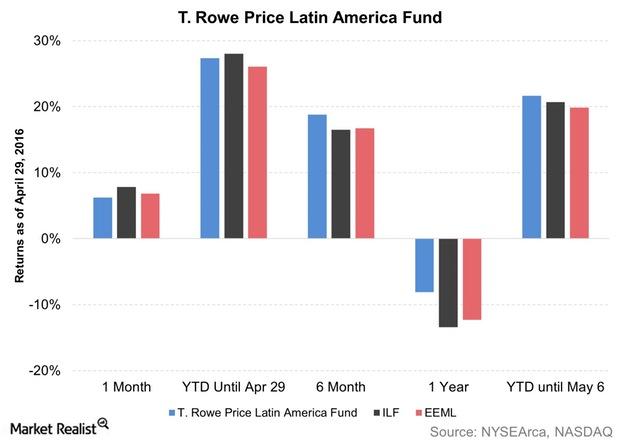 High Exposure to Financials Worked for PRLAX
By David Ashworth

May. 9 2016, Published 2:50 p.m. ET
Performance evaluation of the T. Rowe Price Latin America Fund
The T. Rowe Price Latin America Fund (PRLAX) surged 27.3% in the first four months of 2016, but it still came in fourth among the eight funds in this review. In the past year, it fell 8.1%, placing it second among its peers.
Meanwhile, from December's end until May 6, 2016, the fund rose 21.6%. We have graphed its performance against two ETFs: the iShares Latin America 40 ETF (ILF) and the iShares MSCI Emerging Markets Latin America ETF (EEML). Let's look at what contributed to PRLAX's performance in the first part of 2016.
Article continues below advertisement
Portfolio composition and contribution to returns
Financials stocks powered PRLAX's returns in the first four months of 2016. Their contributions justified their high exposures in the portfolio. The preference shares of Itaú Unibanco Holding (ITUB) contributed one-third of the sector's total contribution to the fund. Preference shares of Banco Bradesco (BBDO) were also major contributors.
Consumer staples, PRLAX's second-largest invested sector, followed financials in terms of positive contributions. Raia Drogasil and Ambev (ABEV), in that order, were the two biggest contributors from the sector. The fund manager's stock picks from the consumer discretionary sector did exceptionally well. Lojas Renner and S.A.C.I. Falabella were notable contributors from the sector.
Compañía de Minas Buenaventura (BVN) led the materials sector, while TIM Participações (TSU) drove the telecommunication services sector.
Investor takeaway
In terms of point-to-point returns, PRLAX slightly lagged the passively managed ILF. However, in terms of total returns, the actively managed fund edged ahead of ILF. PRLAX's financial, consumer discretionary, consumer staples, and industrials stocks did far better than their counterparts in ILF. PRLAX lagged in the energy and materials sectors, where ILF outperformed it.
The fund is the largest in terms of asset size among all the funds in this review. Its trustworthy brand name backed by its good performance has helped it to gain investor confidence.
However, it should be noted that the present rally in Brazilian stocks, notably in the financials sector, is primarily responsible for this good showing. Trouble in Brazil could result in a period of ordinary performance for PRLAX. It'll be interesting to see how the fund's management navigates the rest of 2016 and 2017.
In the next article, let's take a look at the Deutsche Latin America Equity Fund Class A (SLANX).