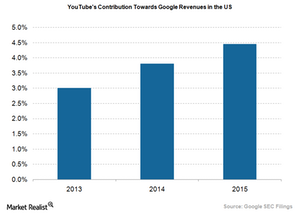 Why YouTube Owes Its Success to TrueView and Google Preferred
By Puneet Sikka

Updated
YouTube is becoming more important for Google
"YouTube now reaches more 18- to 49-year-olds on mobile devices than any TV network." We've been hearing this cliché for a long time from Google (GOOG). YouTube certainly keeps becoming more important for Google. Although the company doesn't disclose the revenue contribution from YouTube towards its overall revenues, an eMarketer report suggests that YouTube's net US video ad revenues grew from $0.77 billion in 2013 to $1.55 billion in 2015. This growth translated to a YouTube contribution to Google's revenues US revenues from 3.0% to 4.5%, as the chart below shows.
The eMarketer report also mentions that even though YouTube's share in this market will decline from 20.0% in 2015 to 17.7% in 2017, it will remain the leader in this market. The decline will come from growing competition from Facebook (FB), Twitter (TWTR) , Yahoo (YHOO), and Vimeo.
Article continues below advertisement
TrueView and Google Preferred are driving YouTube's revenues
YouTube owes this success to its key video ad drivers—TrueView and Google Preferred. To learn more about TrueView, please read Google's TrueView Ad Format Is Popular with Advertisers. During the March quarter's earnings conference call, Google gave an example of how Microsoft (MSFT) hosted a live event on YouTube to launch Halo 5 on Xbox. This event was driven by TrueView ads, and a record 8 million people logged in.
Google Preferred is another offering from YouTube. It features the top content in 13 categories ranging from food, music, and entertainment. Google mentioned that the number of brands using Google Preferred in the United States (SPY) doubled in the last year. It also announced a few enhancements to Google Preferred in this year's Brandcast event, where the company shows the best of YouTube to agencies and advertisers.