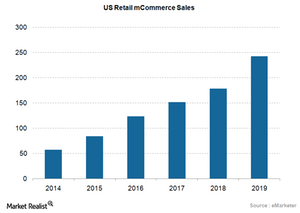 Google Tries to Take on Amazon in the e-Commerce Market
By Puneet Sikka

Jun. 2 2016, Updated 11:08 a.m. ET
Google continues to expand its shopping service
Google Express is Google's (GOOG) same-day shopping delivery service. Google launched this service in San Francisco in 2013 and has since expanded it to other cities, including New York City, Los Angeles, Boston, Chicago, andWashington, DC.
Although this service from Google directly competes with Amazon (AMZN) Prime, its operations are completely different. Google works directly with local retailers, while Amazon maintains its own warehouses and has a much larger selection of items. Customers can place orders online from retail stores such as Staples (SPLS) and Walgreens (WAG), and Google delivers the orders to customers.
Earlier this year, Google expanded Google Express to include same-day delivery of fresh groceries. Amazon has been in the market of delivering fresh food since 2006 with its AmazonFresh grocery service.
Article continues below advertisement
Facebook and Twitter have changed their strategy on handling e-commerce transactions
Google also continues to enhance its product listing ads, or PLAs. PLAs appear alongside a search query, featuring a product image and price details. PLAs also provide a direct link to the product page on an e-commerce website.
Last year, Google added a "buy" button alongside the PLAs. This allows users to complete e-commerce transactions on Google's site instead of on a third-party platform. Facebook (FB) and Twitter (TWTR) introduced similar features in their e-commerce ads.
Twitter launched an in-Tweet "buy" button for users to complete e-commerce transactions instantly on its own platform. However, both Facebook and Twitter have said that they are now focused on connecting users with retailers rather than on encouraging them to make transactions on their platforms.
All these players are focused on building e-commerce capabilities on mobile devices, as mobile transactions are now driving the growth of e-commerce transactions. The m-commerce (mobile commerce) market is indeed growing at a fast rate. According to a report from eMarketer and as the chart above shows, the US retail m-commerce market could grow from $56.7 billion in 2014 to $242.1 billion in 2019.