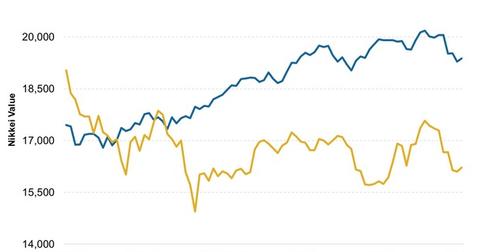 How Fortunes Turn: Japanese Stocks in 2015 and 2016
By David Ashworth

Updated
Japanese stocks in 2015
At this time last year, Japanese stocks (DBJP) (EWJ) (VPL) were the darlings of equity investors around the world. The Nikkei 225 had risen 12% for the year in terms of yen. Among gloomy stock markets in the developed world, Japanese stocks were a shining star. Fund managers were flocking to the Land of the Rising Sun at a time when emerging markets were losing their sheen.
Article continues below advertisement
A reversal of fortune in 2016
Fast forward to 2016, and the party seems to have long been over for Japanese stocks (FPJAX) (DFJSX). The Nikkei 225 has fallen 15% so far this year in terms of yen, making the index one of the worst performing so far this year. That's not just in the developed world. It includes all major financial markets.
So what changed in such a short amount of time?
Worries about monetary stimulus not working
It's been a while since Abenomics became a colloquial term. A combination of monetary and fiscal policies and structural reforms was supposed to get the derailed Japanese economy back on the growth track. But after being in effect for three years, those policies have failed to make a significant difference in the gloom surrounding the country's economy.
Monetary policies instituted by the Bank of Japan have helped push stock indexes up. This is because monetary easing devalues a nation's currency. That, in turn, helps exporters because goods and services produced by companies become cheap in the international market. Since Japan is an export-driven economy, monetary stimulus has helped exporters make money. Since the Nikkei 225 is exporter-heavy, the index has risen since a large monetary stimulus was put into effect.
However, even after many attempts, monetary easing has failed to stoke inflation. In fact, even though the Bank of Japan surprised markets by cutting interest rates to negative for a part of the cash deposited with the central bank, the Japanese yen has rallied. The central bank's latest decision at its April 28, 2016, meeting to take no further monetary action has made things worse. Let's look at that more closely in the next article.