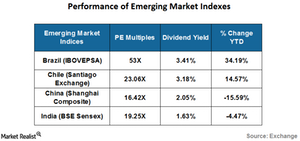 Finding Investment Avenues in Emerging Markets
By Sarah Sands

Nov. 20 2020, Updated 4:28 p.m. ET
Performance of emerging market
In the current situation, when the question arises about investment in emerging markets (EEM) (EDC), investors tend to think about the Chinese economy (ASHR) (YINN). The Chinese economic slowdown, the downturn in commodity (DBC) prices, and the growing debt burden on the Chinese economy have shaken investors' confidence in the country.
Yacov Arnopolin, a portfolio manager at Goldman Sachs (GS) Asset Management, expressed caution about economies that have been the most exposed to China. Billionaire investor George Soros also pointed out warning signs from China. Read Why George Soros Sees Warning Signs in China to know more about this topic.
On a year-to-date (or YTD) basis, the Brazilian index (EWZ) provided the highest return of 34.2% and the highest dividend yield of 3.4%. It's currently trading at a PE (price-to-earnings) multiple of 53x, which is comparatively higher than other emerging markets.
Article continues below advertisement
India's (INDA) BSE Sensex provided a return of -4.5% YTD, and it's currently trading at a PE multiple of 19.25x. The 30-day implied volatility in Latin American (ILF) economies is higher compared to other emerging economies, indicating that the Latin American economy's market movements will be more pronounced in either direction.
However, Goldman Sachs is bullish on the Central American and Caribbean economies, as they import oil and rely on American tourism. GS also believes that a transition in Latin American countries' politics could boost asset prices in the region.
Recently, Argentina issued the largest emerging markets bond after the new administration took charge and settled a long-standing dispute existing since 2001.
You may be interested to read Quantitative Analysis of Latin America's Bull Run: Is It Overdone?