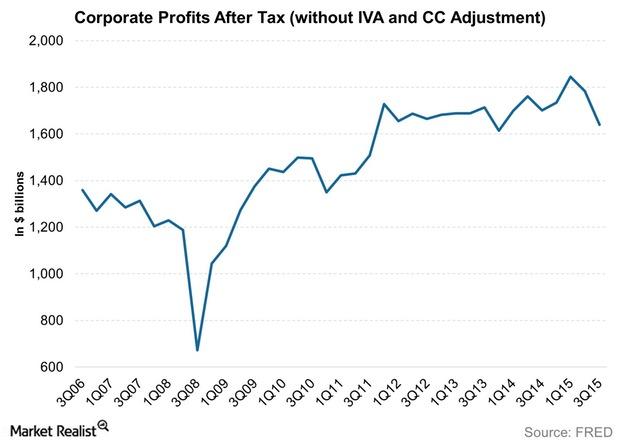 Corporate Profits Are Key for Richard Bernstein
By David Ashworth

May. 24 2016, Published 6:26 p.m. ET
Richard Bernstein on stock drivers
Founder and CEO of Richard Bernstein Advisors, Richard Bernstein recently gave an interview to CNBC's Michael Santoli about what drives stock markets. He noted that his firm employs a top-down, macro research approach.
As an example, he noted that his firm doesn't know anything about Coke (KO) versus Pepsi (PEP) and doesn't claim to do so. His top-down approach remains in place with respect to style, size, and geography.
Article continues below advertisement
Top-down research
Top-down research is one of two research approaches, the other approach being bottom-up research. In top-down research, the focus is on macro factors such as the economic and geopolitical environment and their impact on financial markets.
On the other hand, bottom-up research focuses on companies rather than the macro environment. The underlying belief in this approach is that even in bad times for their sector or industry, strong companies will continue to do well. Actively managed mutual funds (ASMMX) (IGEAX) mostly employ bottom-up research to select stocks.
This is in contrast to passively managed exchange-traded funds such as the iShares Russell 1000 Growth ETF (IWF) and the iShares Russell 1000 ETF (IWB), whose composition changes only with a rebalancing or reconstitution of the underlying index.
Richard Bernstein follows corporate profits
Clarifying his top-down research approach, Bernstein noted that he focuses on corporate profits more than anything else. Unlike most macroeconomic indicators such as economic output, which are followed closely, he believes that corporate profits drive stocks.
Bernstein furthered his argument by saying that one of the reasons investors miss reading cycles correctly is because they do not pay much attention to corporate profits at all.
Although Bernstein may not be looking deeply at the nitty-gritty corporate tasks that go into bottom-up stock research, his main aim is to see whether a company is making money. If it is, he believes the company has a decent chance of doing well. Although his firm is looking at a corporate measure, it is one of the broadest ones available, which makes it a macro factor.
One of the points of discussion that naturally followed was his view on the profit cycle that corporate America is in. His response was interesting, which we'll explore in the next article.