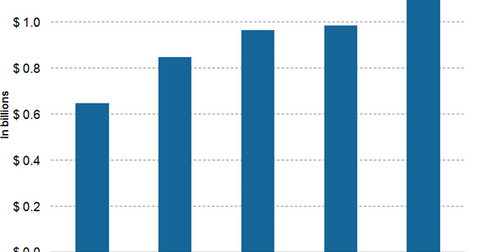 Competitive Pressures May Reduce Abraxane's Revenue Growth
By Margaret Patrick

May. 12 2016, Updated 11:08 a.m. ET
Revenue growth
Celgene (CELG) expects its drug Abraxane to earn revenue in the range of $950 million–$1 billion in 2016. The drug's revenue growth is expected to be constrained, mainly due to intense competition in the lung and breast cancer markets in the United States.
Abraxane is expected to witness strong revenue growth in international markets, as the drug is being used as the standard of care for pancreatic cancer. To know more about Abraxane, please refer to What Will Drive Future Revenue for Celgene's Abraxane?
Wall Street analysts have projected that Abraxane's revenue will reach ~$1.0 billion in 2016. This would be a year-over-year rise of 2.0%.
Article continues below advertisement
US market
In combination with gemcitabine, Abraxane is being used as a standard of care by half of newly diagnosed pancreatic cancer patients in the United States.
Though demand for the drug has fallen in the non-squamous lung cancer segment, demand has remained flat in the squamous lung and breast cancer segments. This has resulted in overall stable demand for the drug, despite strong competition from other oncology players such as Amgen (AMGN), Merck & Co. (MRK), and Bristol-Myers Squibb (BMY).
Future growth drivers
Abraxane is expected to benefit from positive data from the APACT trial, expected in 2017. This trial aims to compare the efficacy and safety of two chemotherapy regimens in pancreatic cancer patients whose cancer has been removed by surgery. Additionally, research in areas such as triple-negative breast cancer and lung cancer is also expected to boost Abraxane's sales in future years.
If these research programs prove successful, Celgene's share price could rise. The SPDR S&P 500 ETF (SPY) could also rise. Celgene makes up about 0.44% of SPY's total portfolio holdings.
In the next article, we'll explore Celgene's strategy for its immunology and inflammation drug Otezla in 2016.