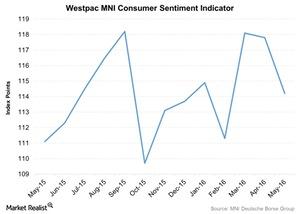 What Caused Westpac MNI Consumer Sentiment to Fall?
By Lynn Noah

Updated
Westpac MNI Consumer Sentiment Indicator
The Westpac MNI China CSI (Consumer Sentiment Indicator) is made up of five major sub-indicators—durable buying conditions, current business conditions indicator, stock investment indicator, real estate investment indicator, and car purchase indicator.
The Westpac MNI China CSI fell 3.1% to 114.2 in May from 117.8 in April. All of the components of the headline indicator contributed to the fall. The most significant adjustment occurred in consumers' assessment of their household finances. This impacted durable buying conditions. The assessment of business conditions fared relatively better, but the outlook deteriorated.
Article continues below advertisement
Consumers turn risk averse
The current personal finances indicator fell 5.5% in May to 104.3. The expectations for personal finances fell 2.8% to 112.8. The heightened uncertainty about family income saw respondents turn more risk averse when choosing a destination for their savings. This was highlighted by a series high 56.7% nominating bank deposits as the wisest place for savings. The durable buying conditions indicator fell 4.2% to 104.0 in May. The sentiment on buying phones, computers, and appliances all fell sharply.
May's survey revealed a disparity between consumers in East China and those in Middle or West China. West China has been hit the most by overcapacity and the slower growth. East China is driven more by consumption. Consumer confidence fell 7.6% in Middle or West China compared to a more muted 0.9% fall in East China.
Article continues below advertisement
Chinese consumers take a cautious approach
According to Westpac senior economist Matthew Hassan, "While the overall mood still looks more positive than late last year and key areas such as employment expectations posted a notable improvement in May, the more tentative, risk-averse tone to the May survey responses suggests that, at the margin, Chinese consumers are taking a more cautious approach to spending and financial decisions."
Impact on funds
A fall in consumer discretionary spending would benefit American depositary receipts of Chinese consumer discretionary companies such as Ctrip.com (CTRP), Jumei International (JMEI), Homeinns Hotel Group (HMIN), New Oriental Education (EDU), and Qunar Cayman Islands (QUNR).
Similarly, a fall in consumer sentiment is positive for the entire consumer and retail sector. This would benefit mutual funds such as the Clough China Fund – Class A (CHNAX). It has sizable exposure to stocks from the consumer discretionary sector. Even ETFs such as the iShares MSCI China ETF (MCHI) and the SPDR S&P China ETF (GXC) would benefit.