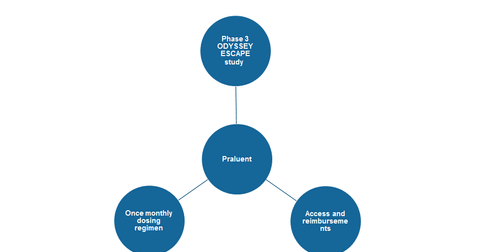 How Can Regeneron Pharmaceuticals Boost Revenue from Praluent?
By Jillian Dabney

Updated
Praluent 
During the first quarter of 2016, Praluent sales came to $13 million. The product sales were recorded by Sanofi (SNY). Regeneron (REGN) records its share of profits or losses from the sale of the drug. The drug was launched in the United States in 3Q15. In 4Q15, it was commercialized in Europe. For details on the drug, read The Battle between Praluent and Repatha.
The drug's revenue can be boosted by measures such as additional studies, flexibility in dosing regimens, and expansion of the formulary access to the drug.
Article continues below advertisement
ODYSSEY ESCAPE study
In March 2016, Regeneron reported phase 3 trial results. The trial was being conducted in "heterozygous familial hypercholesterolemia (or HeFH) patients undergoing LDL (low-density lipoprotein cholesterol ) apheresis therapy. Apheresis is an invasive, expensive and time-consuming therapy given to the patients with the highest cholesterol levels and the greatest need."
The study suggested that Praluent reduced the need for apheresis by 75% compared to the placebo. The first interim analysis for the study has been completed, and a second interim analysis for futility and overwhelming efficacy might take place in the second half of 2016. Positive ODYSSEY data might bring in growth for Praluent.
Improved dosing regimen for Praluent
Along with additional studies, REGN is planning to file a sBLA (Supplemental Biologics License Application) in the second quarter of 2016. The application for a monthly dosage of the drug would offer dosing flexibility. The rival drug Repatha by Amgen (AMGN) is already ahead of Praluent in obtaining such approval.
Although PCSK9 therapies such as Praluent and Repatha are better than dyslipidemia drugs such as Lipitor and Crestor, the class is struggling with high pricing pressure. For details on the pricing pressure on the PCSK9 drug, read PCSK9 Inhibitor Therapies Face Pricing Pressures.
Lipitor and Crestor are blockbuster drugs from Pfizer (PFE) and AstraZeneca (AZN), respectively.
Access and reimbursements
As of April 1, 2016, 74% of commercially insured individuals and 91% of Medicare-insured individuals have access to Praluent. The drug captured 50% of the new prescriptions in the class in the United States during the week ending April 22, 2016. With continued efforts, there might be a jump in revenue from the drug. However, with the loss of a patent infringement case with Amgen, the drug won't prove to be a major driver for the company.
To avoid volatility and direct risk associated with REGN, you can look for options such as the First Trust NYSE Arca Biotechnology Index Fund (FBT). The ETF invests 3.4% of its holdings in Regeneron Pharmaceuticals.