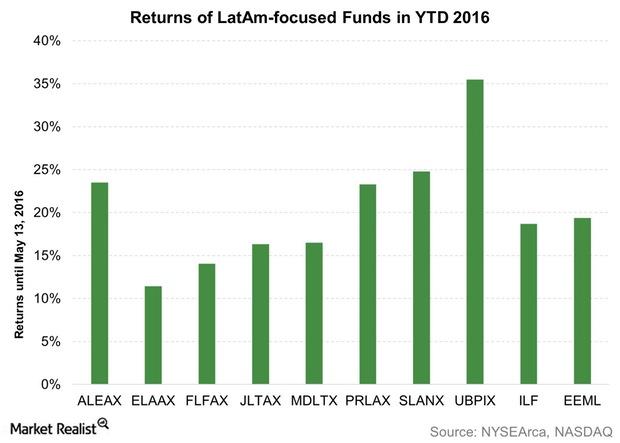 How the Brazilian Stock Rally Has Impacted LatAm–Focused Funds
By David Ashworth

May. 16 2016, Published 2:53 p.m. ET
Latin America–focused funds
Several Latin America–focused funds have posted high double-digit returns so far in 2016. Those invested majorly in Brazilian stocks have outperformed those focused on Mexico (ELAAX) (EWW), the other major Latin American economy.
Among all funds, whether actively or passively managed, financials is the sector in which there is the most investment. Three of the eight LatAm-focused mutual funds (JLTAX) (PRLAX) (SLANX) have over 40% of their assets invested in the sector. If you're interested in a fund-by-fund analysis of the eight actively managed LatAm–focused funds, you can read Why LatAm Mutual Funds Rose in the First 4 Months of 2016.
Article continues below advertisement
Comparison with the Ibovespa
Four (ALEAX) (PRLAX) (SLANX) (UBPIX) of the eight mutual funds investing in Latin American stocks have outperformed Brazil's benchmark equity Bovespa Index. Of them, one (UBPIX) is a leverage fund.
Passively managed funds such as the iShares Latin America 40 ETF (ILF) and the iShares MSCI Emerging Markets Latin America ETF (EEML) have underperformed the index. However, the passively managed iShares MSCI Brazil Capped ETF (EWZ) has outshone them all except for UBPIX.
Passive versus active
While the returns of the eight mutual funds range from 11% to 35.5% on a year-to-date basis, the ILF and EEML, which invest across Latin America, have returned in the range of 18.5%–19.5%. On the other hand, the Brazil-focused EWZ has returned 34.4% in the period.
Given that the recent rally in Brazilian stocks (VIV) (TSU) (BBDO) is more emotional than rational, investors may wish to invest in passively managed funds, which are quicker to liquidate than mutual funds. While Brazil may have future potential, investing in mutual funds now would require long-term patience for desired results.
In the next article, we'll look at the views of fund managers who are positive on Brazilian equities.