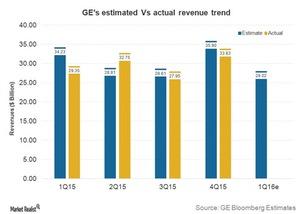 Will Weak Macro Environment Affect General Electric in 1Q16?
By Jessica Stephans

Updated
General Electric's 1Q16 revenue estimates
General Electric (GE) will release its 1Q16 earnings on April 22, 2016. The estimate for 1Q16 revenue is ~$28 billion, which is 5% lower than ~$33.8 billion in 1Q15. GE's 4Q15 revenues were largely in line with Market expectations. But the company's industrial revenue and profits have fallen 1% and 8%, respectively, on a year-over-year basis, disappointing Wall Street.
When GE reports its 1Q16 results, investors should watch closely for revenues and margins in its industrial segments. In a slow-growth environment, GE's performance will be a true test of its productivity and efficiency. Its quarterly revenues have missed seven of the eight trailing quarters.
Article continues below advertisement
Understanding General Electric's revenue streams
GE's revenues can be broadly classified under industrials and financials (IVG) verticals. Verticals refer to the financial (XLF) services businesses expected to be retained by GE. They primarily include GECC's (General Electric Capital Corporation) vendor financing operations.
GECC is General Electric's financial arm that provides commercial lending and leasing and a host of other financial services (IYG) to retail and industrial customers. GE has sold off many divisions within GECC. GECC's revenue contribution to total sales declined from 28% ($42 billion) in 2014 to 9% ($10 billion) in 2015.
General Electric's peers
3M (MMM), Honeywell International (HON), and Illinois Tool Works (ITW) are some of GE's peers operating in the industrial space. However, they can't be strictly compared due to diversified product bases and revenue streams.
3M expects its 1Q16 revenue to be $7.3 billion, a decline of 3.4% compared to 1Q15. Similarly, ITW expects its 1Q16 revenue to be 3.5% lower than the $3.2 billion in 1Q15. HON expects its 1Q16 revenue to be 1.7% higher than its 1Q15 revenue of $9.3 billion.
What matters the most after revenues is EPS (earnings per share). In the next part, we'll cover Market expectations for GE's EPS.