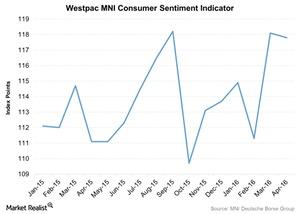 Why Westpac MNI China Consumer Sentiment Eased after Sharp Rise
By Lynn Noah

Updated
Westpac MNI China Consumer Sentiment Indicator
The Westpac MNI China Consumer Sentiment Indicator (or CSI) is made up of the following five major sub-indicators:
durable buying conditions
current business conditions
stock investment
real estate investment
car purchase
The Westpac MNI China CSI fell 0.3% to 117.8 in April after rising sharply by 6.1% to 118.1 in March. The slight pullback in consumer sentiment in April was led by a fall in expectations of business conditions in a year's time. It fell from 122.8 in March to 119.3 in April. Consumers were also less confident about the outlook for their personal finances. Although consumer confidence has increased 2.5% since the start of the year, it's still below the series average of 119.9.
Article continues below advertisement
The current personal finances indicator increased 1.1% to 110.3 in April, the highest since May 2014. A range of metrics aimed at assessing how willing respondents are to purchase goods or spend on leisure activities increased significantly. Both the shopping and dining out expenditure indicators increased to their highest since July 2014 and February 2014, respectively.
Durable buying conditions hung on to the sharp gain in March with buying conditions for IT (information technology) products, phones, and other appliances rising sharply. The car purchase expectations indicator increased to 109.1 in April from 103.4 in March, the highest since October 2010.
Optimism over the housing market faded marginally in April, with the house price expectations component easing 3.3% to 120.1 in April. That came despite numerous policy measures to contain widespread real estate market imbalances.
A look ahead
According to Westpac senior economist Matthew Hassan, "The Chinese consumer continues to show promising signs of improvement. The first few months of 2016 have registered a solid lift in sentiment coupled with increasingly positive readings on housing and spending related questions. There are still weaknesses – the anticipated recovery in business conditions remains elusive and consumers' job loss concerns remain elevated – and it remains to be seen how well the improved mood is sustained but prospects for a lift in Chinese consumer-related demand now look somewhat better than they did at the start of the year."
Impact on funds
A rise in consumer discretionary spending would benefit ADRs (American Depositary Receipts) of Chinese consumer discretionary companies. Some of these companies are Ctrip.com International (CTRP), Jumei International Holding (JMEI), Home Inns & Hotels Management (HMIN), New Oriental Education & Tech Group (EDU), and Qunar Cayman Islands (QUNR).
Similarly, the rise in consumer sentiment is positive for the consumer and retail sectors. This would benefit mutual funds such as the Clough China Fund – Class A (CHNAX), which has a sizable exposure to stocks from the consumer discretionary sector. ETFs such as the iShares MSCI China Index Fund (MCHI) and the SPDR S&P China ETF (GXC) would be favorably impacted.
In the next article, we'll look at the yuan's position in global currency payments.